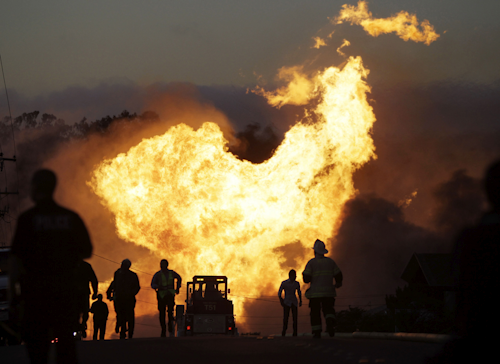 Federal regulators on Thursday announced new standards aimed at improving the safety of the nation's natural gas pipelines.
The Transportation Department's Pipeline and Hazardous Materials Safety Administration said that the proposal would address requirements and recommendations from Congress, the Government Accountability Office and the National Transportation Safety Board.
The six NTSB recommendations include a measure to require testing of gas pipelines built prior to 1970 — part of an effort to address concerns following a deadly 2010 explosion in California.
The requirements would also include pipelines in areas determined to be "in areas of medium population density" — or pose a risk to human life.
"This proposal includes a number of commonsense measures that will better ensure the safety of communities living alongside pipeline infrastructure and protect our environment," Transportation Secretary Anthony Foxx said in a statement.
The Associated Press reported that the standards are estimated to generate roughly $600 million to $700 million in compliance costs for gas companies but save between $3.2 billion to $4.7 billion in overall costs due to averted pipeline accidents.
During the past 20 years, more than 2,000 such accidents caused 46 deaths, 181 injuries and $1.8 billion in damages, according to an AP tally.
DOT officials also said that the plan would help reduce greenhouse gas emissions — including carbon dioxide and methane — and help comply with the Obama administration's climate change goals.
The proposed rules, however, reportedly did not include a requirement of emergency automatic shut-off valves for gas pipelines, which the industry has long resisted due to high costs.
Advocates blame the lack of such valves for the prolonged response to a ruptured 55-year-old pipe in San Bruno, California, that killed eight and damaged or destroyed dozens of homes in a September 2010 explosion.
PHMSA administrator Marie Therese Dominguez told the AP that the valves are an agency priority and would be addressed in a separate proposal.