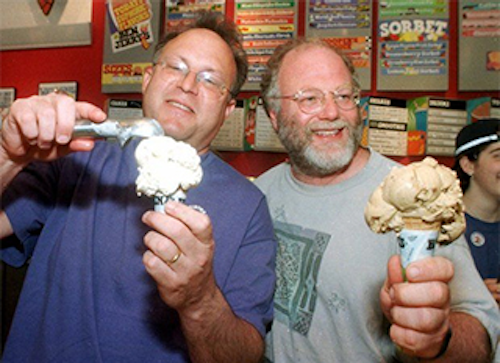 Whether you are into marijuana or not, one thing is for certain: smoking weed is said to give you major munchies.
Stoners who enjoy sweet treats while they smoke could soon be packing bowls of a different kind. 
In an interview with the HuffPost Live, Co-founder Ben Cohen said making a cannabis flavored ice cream "makes sense to me."
The Vermont-based ice cream kings Cohen and Jerry Greenfield said they are open to making a marijuana ice cream in state's where the herb is legal.
Currently, Colorado, Washington, Oregon and Alaska have passed laws making weed legal for medicinal and recreational use.
While Cohen said it makes sense to "combine your pleasures," Greenfield added that himself and Cohen have had "previous experiences with substances."
"I think legalizing marijuana is a wonderful thing, rather than putting people in jail," Greenfield added.
According to Business Insider, Ben & Jerry's is known for being socially progressive. The two have long been supporters of marriage equality and offers plentiful benefits to its employees.
Also, recently the company has phased out GMOs in its ingredients.
Watch a video of the interview here.