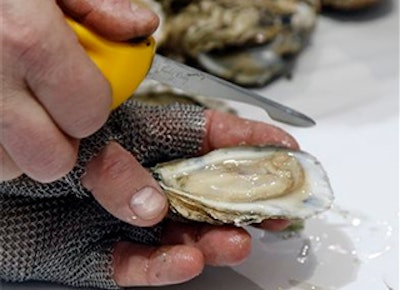 BOSTON (AP) — Seafood is the focus of this week's trade event in Boston that the organizers say draws more than 19,000 people annually.
The 33rd Seafood Expo North America and Seafood Processing North America, which began Sunday, offers sampling, cooking classes from expert chefs and an oyster shucking competition.
The three-day event connects various buyers and suppliers from more than 100 countries who sell fresh, frozen and packaged seafood products.
Attendees can learn how to select and prepare certain products such as lobster, salmon and oyster.
This year's Seafood Excellence Awards winners were announced Sunday. King & Prince Seafood of Brunswick, Ga., won "Best New Retail" for its Bacon Wrapped Stuffed Shrimp and High Liner Foods of Lunenburg, Nova Scotia, won "Best New Foodservice" for its Flame-Seared Guinness Barbecue Glazed Atlantic Salmon.