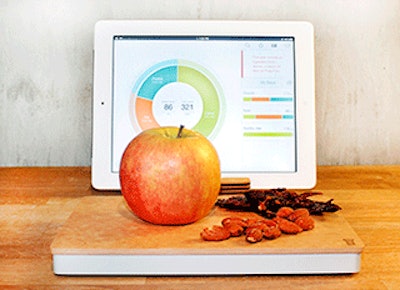 SANTA MONICA, Calif. (PRNewswire) — Consumers can now use their tablets as a food scale to track nutrition and calories, according to this week's segment of The Lempert Report Innovation Series, a weekly video series featuring innovation in the food world.  
Distributed every Thursday, this week's three-minute video features a start-up company called The Orange Chef Co. that developed the "Prep Pad," a smart food scale app to help consumers learn more about the nutritional content of their food.
Users place ingredients and type a description on their tablet. The tablet then mines a database of 250,000 foods to provide details of its nutrients and calories. Prep Pad interprets the data and allows users to track and ideally improve their eating habits.
"This innovative app allows people to better understand their food, health and wellness anytime and anywhere," says Phil Lempert, CEO and editor of The Lempert Report. "This makes staying healthy and being accountable easier and more convenient."
The Lempert Report Innovation Series is available online for consumers, food industry insiders and also as a ready-to-air segment for newsrooms. Throughout the video, "Tetra Pak Tips" provide behind-the-scenes insight about the products, packaging and trends.
About The Lempert Report
The Lempert Report is an up-to-the minute empowering video trend report uploaded every Monday, Tuesday, Thursday and Friday. TLR is the leading resource for supermarket trends and where they intersect with the consumer; offering both the retail and CPG communities' unique insights to capitalize on those opportunities.