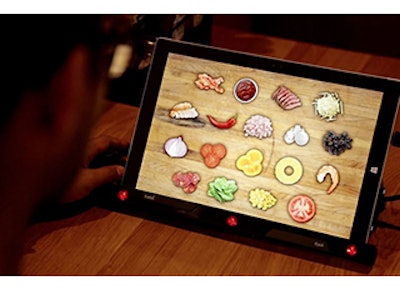 If we really do eat with our eyes first, then this new high-tech Pizza Hut menu might just be the future of ordering in restaurants.
The chain is calling it the first "subconscious menu," and it acts as a stand-in for the paper menu you'd usually get when dining at a Pizza Hut. It tracks your eye movements and selects toppings based on where your gaze lingers the longest.
So if you stare at, say, cheese and basil, the menu might know those are your choices even before you do; it's all supposed to take just 2.5 seconds. The menu has 4,896 possible toppings combinations and is already being tested at some restaurants in the UK.
That might seem like you're banking a whole meal on wherever your eyes happen to land for a couple of seconds. But Pizza Hut has test results on its side—
98% of people who have tried out the subconscious menu have been satisfied with the experience
, according to the company. And if you aren't happy with the subconscious menu's decision, a glance at a restart button will start the process over.
The menus were developed in collaboration with 
Tobii
, a Swedish company that develops eye-tracking technology. It took six months to get 
everything up and running
.
Peter Tiberg, Tobii's vice president of sales in Europe and Asia, told Mashable in an email that the tech works by using algorithms and the company's EyeX eye-tracking sensor.
"There is no touch involved at all; it's a completely hands-free design," he said. "Eye tracking will change the way we interact with any device in the future, not only when ordering pizza."Pizza Hut isn't the only internationally recognizable pizza chain that's experimenting with technology. There's a 
Domino's app
 (nicknamed "Dom"), for example, that's designed to allow customers to browse the menu and order food by speaking. Pizza Hut, though, is the only chain that's trying to read your mind.
The new menus are rolling out in the UK for testing at Pizza Hut's refurbished locations. There's no set date for when the menus will hit the U.S., if at all.