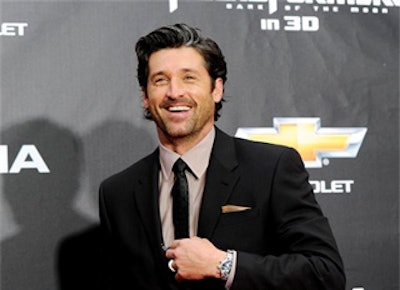 SEATTLE (AP) — Actor Patrick Dempsey said it appears his bid to buy a small coffee chain has prevailed in a bankruptcy auction that included Starbucks Corp.
Late Thursday night, Dempsey announced that his company, Global Baristas LLC, made the winning bid for Tully's Coffee. He noted in a KOMO-TV interview that a bankruptcy judge will have the final say on Jan. 11. Still, Dempsey tweeted "We got it! Thank you Seattle!"
Dempsey's company will pay $9,150,000 for Tully's and complete the purchase later this month after the court hearing, he said in a statement.
"I'm thrilled that we won and I'm even more excited about saving Tully's Coffee and its hundreds of jobs," he said. "Tully's is a great company with committed employees, and with its base in Seattle, one of the world's greatest cities, I'm confident we will be able to successfully build the brand and help grow the economy. "
Tully's Coffee has 47 company-owned locations in Washington and California. The company, with more than 500 employees, filed for Chapter 11 bankruptcy protection in October.
Dempsey, who gained the nickname "McDreamy" on the TV show "Grey's Anatomy" set in a fictional Seattle hospital, has said he wants to rescue the chain.
"Seattle has been very good to me over my career, and I am honored to have the privilege to own Tully's and work closely with the company's employees," he said in his statement.
After Thursday's auction, Starbucks spokesman Zack Hutson confirmed his company participated and "is currently in a back-up position" for some of Tully's assets. The final certification of the winning bid won't occur until the Jan. 11 bankruptcy court hearing, Hutson said.
"We have to wait until next week to make sure everything — I believe the 11th — to make sure it's all finalized," Dempsey told KOMO-TV.
The Starbucks spokesman said his company made an offer for 13 of Tully's company-owned stores in the Puget Sound region plus 12 outlets at Boeing Co. sites. Hutson said another bidder made an offer for all other assets — and is in a back-up position for those.
Also in the running was Baristas Coffee, which operates a chain of drive-thru espresso stands featuring female employees in skimpy outfits.
Both Starbucks and Tully's are based in Seattle.
The auction process was not public.