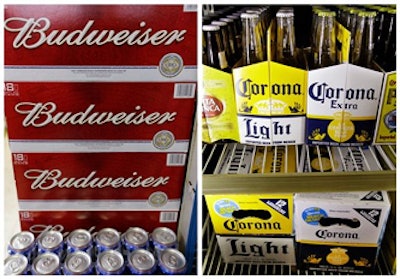 (AP) — Anheuser-Busch InBev said Friday that it completed its $4.75 billion sale of Grupo Modelo's U.S. beer business to Constellation Brands Inc.
The deal was struck to satisfy the Department of Justice's anti-competitive concerns about Anheuser-Busch InBev's larger purchase of Mexican brewer Grupo Modelo.
Anheuser-Busch InBev, the world's largest brewer, has been trying for almost a year to buy the half of Modelo it did not already own. The Justice Department initially blocked the deal, but signed off on it after AB InBev agreed to sell Modelo's U.S. business to Constellation.
AB InBev completed its $20.1 billion acquisition of Grupo Modelo on Tuesday.
Under the deal completed Friday, Constellation will sell Modelo brands including Corona in the U.S., effectively replacing Modelo as a competitor to AB InBev.
AB InBev, based in Belgium, sells Budweiser, Stella Artois and other beers. The combined company will also sell Corona and other Modelo brands outside the U.S.
Anheuser-Busch InBev SA/NV shares rose $1.71 to close at $94.41. Constellation Brands rose $1 to close at $53.34.