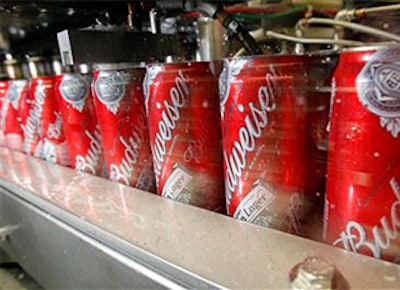 In this Wednesday, March 2, 2011, file photo, Budweiser cans run through a filling machine at the Anheuser-Busch brewery in the Van Nuys area of Los Angeles. The world's largest brewer Anheuser-Busch InBev reports quarterly earnings on Thursday, Oct. 31, 2013, (AP Photo/Reed Saxon, File)
AMSTERDAM (AP) — Anheuser-Busch InBev, the world's largest brewer, says its third-quarter profits rose as the takeover of new brands and higher selling prices offset the impact of lower sales volumes.
The company, based in Leuven, Belgium, said Thursday that net profit was up 31 percent to $2.37 billion (1.73 billion euros), from $1.81 billion in the same period a year earlier. The gain largely reflects the company's $20 billion purchase in June of the 50 percent of Mexico's Grupo Modelo it didn't already own.
Revenues rose 14 percent to $11.6 billion due to the takeover, currency effects and growth.
Although sales volumes rose 11 percent, that was mainly due to the Modelo deal. Without it, volumes sank 1.3 percent, something the company had to offset by raising prices.
Among the best performing brands were its flagship Budweiser beer, which grew global sales by 8.1 percent, and Corona, up 3.7 percent. AB InBev's purchase of Modelo included rights to sell and market Corona globally — except in the U.S., where AB InBev brands, including U.S. bestseller Bud Light, already have a market share of around 50 percent.
"We are not satisfied with our top line performance in 2013, which continues to be impacted by macroeconomic headwinds in a number of our markets," said CFO Felipe Dutra.
However, he said the integration of Modelo was going faster than forecast, and the company is already saving $250 million on an annual basis by combining operations.
Shares rose 2.1 percent at the start of trade in Brussels, to 76.13 euros.
AB InBev's global brands include Budweiser, Germany's Beck's, Belgium's Stella Artois, and Brazil's Brahma.
Dutra said the company sees big benefits in the near future as Brazil will benefit from the football World Cup in 2014 and the company's biggest brands have room to grow by selling into markets where they are not well-known.
Budweiser was introduced in parts of Central and Eastern Europe in the past 2 years but is already getting around 2 percent of market share "and in a premium position," Dutra said.
"So it's doing extremely well. Corona can follow that same path, why not?"
He described Corona as a brand that can "go where no others can go," due to its popularity at venues that are better-known for selling cocktails, such as dance clubs.