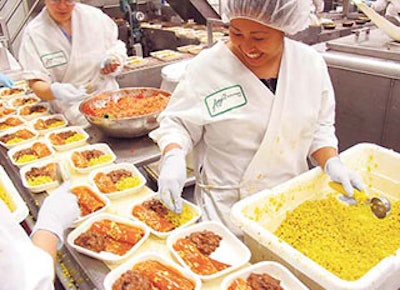 POCAELLO, Idaho (AP) — Organic frozen food maker Amy's Kitchen is opening a new plant in southeastern Idaho.
The company is buying the former H.J. Heinz Co. plant that closed in June, eliminating 400 jobs. At an announcement of the plan in Pocatello on Wednesday, Amy's Kitchen co-founder Rachel Berliner said the company plans to hire 200 workers in December and could hire up to 1,000 workers within a few years. The company also plans to spend $25 million on improvements at the plant.
Amy's Kitchen is a privately-held, family-run company that makes more than 250 organic products such as frozen entrees, pizza, burritos, soups, cookies and candy bars. It started in 1988 when Berliner and husband Andy started making vegetarian pot pies. The company is named after their daughter Amy.
"We felt there was a need for natural organic meals that tasted good. We had no idea we'd be that successful," said Berliner, who was joined by Gov. C.L "Butch" Otter and Pocatello Mayor Brian Blad.
"We'll put our talented workforce back to work," Blad said.
Amy's Kitchen chief financial officer Mark Rudolph said the company has grown so quickly it didn't have time to build a new plant, and so started looking at existing facilities, contacting Pocatello officials in September about the H.J. Heinz plant.
"There is more capacity here than at our plants in Santa Rosa, California, and Medford, Oregon, combined," Rudolph said.
He said the company reached a half billion dollars in sales this year.
"That's a lot of individual meals," Rudolph told the Idaho State Journal.
Amy's Kitchen is receiving a tax credit of 26 percent for 15 years for opening a production facility under Idaho's Tax Reimbursement Incentive plan lawmakers approved earlier this year and that went into effect July 1.
In addition, Bannock County Commissioners approved a 75 percent property tax abatement for the next five years, which covers the existing property and any future investments.