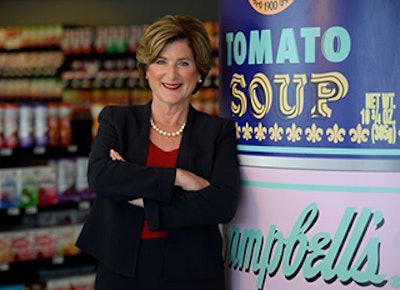 Newswise — CHARLOTTESVILLE, Virginia — 30 October 2014 — The University of Virginia Darden School of Business continued its fall Leadership Speaker Series (LSS) with a presentation from Denise Morrison, president and CEO of Campbell Soup Company.
On Thursday, 23 October, Morrison shared her journey to become the first woman to lead Campbell Soup Company and the story of how Campbell is evolving to compete in the ever-changing global environment. The Darden Graduate Women in Business Club co-sponsored the event.
Campbell Soup is a growing global food company with annual sales of more than $8 billion in three core categories: soup and simple meals, snacks, and healthy beverages.
Morrison became CEO of Campbell Soup in August 2011, after more than eight years with the company and more than 30 years in the food business. She is Campbell's 12th leader in its 145-year history. She joined Campbell in 2003 as president-global sales and chief customer officer. Morrison served in several roles before being named executive vice president and chief operating officer in 2010 and appointed to the board. Prior to joining Campbell Soup, Morrison served as executive vice president and general manager of Kraft Foods' Snacks and Confections division, responsible for leading brands including Planters nuts, Life Savers candies and Altoidsmints. Her extensive food business experience also includes senior leadership roles at Nabisco, Nestle and Pepsi-Cola. She began her career at Procter & Gamble. Morrison earned her B.S. degree in economics and psychology from Boston College, graduating magna cum laude.
Darden alumnus Bill O'Shea (MBA '84), vice president-controller for Campbell Soup Company and Darden Corporate Advisory Board member, was instrumental in bringing Morrison to Darden.
Watch her full LSS presentation on Darden's YouTube channel.
About the Darden School of Business
The University of Virginia Darden School of Business delivers the world's best business education experience to prepare entrepreneurial, global and responsible leaders through its MBA, Ph.D. and Executive Education programs. Darden's top-ranked faculty is renowned for teaching excellence and advances practical business knowledge through research. Darden was established in 1955 at the University of Virginia, a top public university founded by Thomas Jefferson in 1819 in Charlottesville, Virginia.