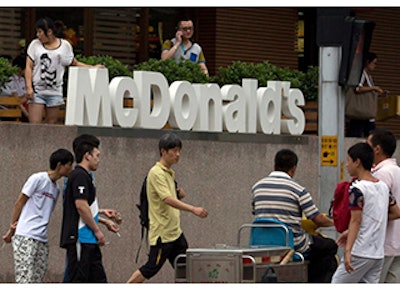 TOKYO, Nov. 6 (Kyodo) — McDonald's Holdings Co. (Japan) on Thursday reported a group net loss of 7.54 billion yen for the January to September period, as sales slumped in the wake of a food safety scandal involving a China-based meat supplier.
That compared with a profit of 6.39 billion yen a year earlier. The fast-food chain's Japanese unit also forecasts a 17 billion yen net loss for 2014, in its first swing into the red in 11 years.
For the nine months to Sept. 30, operating profit plunged 97.8 percent to 238 million yen on sales of 172.25 billion yen, down 12.7 percent.
The company said the supplier problem would cost it 20 billion to 25 billion yen in lost sales for the year, less impact than an earlier forecast 45 billion yen.
But it maintained its full-year forecasts released last month, which project an operating loss of 9.4 billion yen on sales of 221 billion yen, down 15.1 percent from the previous year.
Last year the company posted a net profit of 5.14 billion yen and an operating profit of 11.52 billion yen on sales of 260.44 billion yen.
McDonald's Japan has halted all imports of chicken products from China since July when the scandal broke involving a supplier caught relabeling expired meat and breaching other food-safety rules.
While switching its chicken sourcing to Thailand and also planning to import from Brazil, the company expects to log a 2.7 billion yen charge for the year to write off unsold chicken from China.
McDonald's Japan will invest in measures to improve its quality management, including unannounced audits of its suppliers and distribution of more food-quality information to customers.