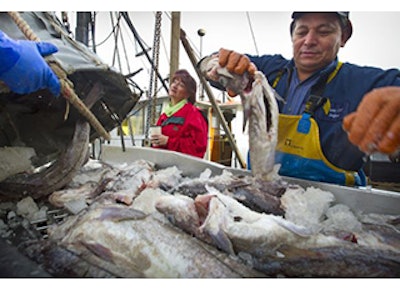 PORTLAND, Maine (AP) — New restrictions on commercial cod fishing in the Gulf of Maine will likely make local cod more expensive for New England consumers, but markets and fish-and-chip shops are unlikely to run low because of abundant foreign sources.
Supply from countries such as Iceland and Norway, as well as Alaska, is steady enough that a lack of Gulf of Maine cod is unlikely to affect prices overall, fishermen and dealers said. But customers who prefer locally caught fish will probably soon have to pay more at markets and restaurants as the federal government tries to restore the fishery from an all-time low.
The availability of cheaper foreign cod will make it imperative for the New England fishery to stress that freshly caught Maine cod is worth the few extra dollars a pound, said Ben Martens, executive director of the Maine Coast Fishermen's Association.
"We should really be trying to create a market that encourages people to pay top dollar to eat those fish," Martens said. "The consumer who is looking for local seafood is going to be more constrained in terms of what's on the table."
Local cod currently costs consumers about $9 to $13 per pound, dealers said.
The National Oceanic and Atmospheric Administration on Monday announced the closure of commercial and recreational cod fishing in parts of the Gulf of Maine. Restrictions also include a 200-pound limit on how much a fishing vessel can catch during a single trip, following several years of no limits for most active fishermen.
Federal officials estimate cod spawning in the Gulf of Maine at only 3 percent to 4 percent of its target level. The gulf is one of two key areas where East Coast fishermen capture cod, along with also-distressed Georges Bank off Massachusetts.
Andy Baler, owner of Chatham Pier Fish Market on Cape Cod, said New England cod retailed around $12 to $13 per pound at his store for much of the summer. He said local supply was low this year, and will likely be lower next year, but Icelandic cod remained easy to find in markets.
"But we want our cod, and we want people to fight for that stuff," Baler said.
The emergency restrictions are in place until May 12. Federal regulators are meeting in Newport, Rhode Island, four days next week to craft longer-term regulations for the fishery.