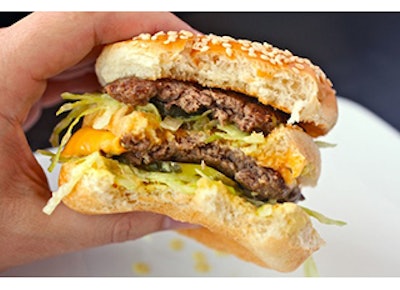 NEW YORK (AP) — A former McDonald's worker acquitted of charges he placed shards of glass into a police officer's Big Mac nearly a decade ago has won a $437,000 settlement from the city after arguing the officer fabricated the story to win money by suing the fast food restaurant.
Albert Garcia was 18 in January 2005 when Officer John Florio accused him of spiking his burger with broken glass. He initially confessed after being questioned by four detectives for hours in a small, windowless room in the Bronx restaurant.
But Garcia, who has an IQ of 81, soon recanted, and his lawyer's investigation revealed enough inconsistencies in the officers' testimonies that the state's highest court unexpectedly decided to hear the assault case this year. The case had been dismissed in 2012, a decision upheld by a lower state appeals court.
Last month, the city agreed to a settlement.
"I was thrilled when I found out," said Garcia, a 28-year-old father of two who works as a counselor at a Bronx YMCA and is studying criminal justice. "I really thought this wasn't going to happen."
It might not have if Florio hadn't pursued a $6 million civil claim against the McDonald's franchise owner about a week after the burger incident. The claim was settled in 2009 for $15,000, said Garcia's lawyer, Raymond Aab.
"That really opened the door for me," said Aab, noting it allowed him to take Florio's and other detectives' depositions, thus uncovering crucial inconsistencies.
Calls to Florio weren't returned. His former lawyer, Richard Kenny, said though he hadn't spoken with Florio in some time, he believed in his honesty and his innocence.
"He was crestfallen and I would say slightly even devastated by the implication that he conjured up this set of facts in an effort to make money," Kenny said. "I think Garcia's lawyer did an outstanding job on his behalf, but I think John Florio was a real victim here."
On this much everyone agrees: On January 29, 2005, Florio, a now-retired veteran officer assigned to the canine unit, stopped at about 11:30 p.m. at the McDonald's drive-thru window and ordered a No. 1 combo meal: a Big Mac, fries and a Coke.
But just minutes later, while driving on a busy expressway with his dog Dodger aboard, Florio testified that about three bites into his hamburger, he felt sharp pain and what he thought might be a cracked tooth.
He took Dodger to Randall's Island for about 45 minutes, called a superior and then made his way to a Queens hospital emergency room, court documents show.
But despite what Florio told fellow officers, medical records from the ER visit show Florio suffered from no apparent symptoms of swallowing glass, Aab claims in papers. What's more, while Florio said he told his family doctor that he had recovered glass shards in his stools, the doctor testified the conversation never took place, the papers show.
And there were more problems.
Restaurant workers testified that Garcia got to work a half hour late the night of the burger affair and thus wasn't even working when Florio was purchasing his meal — a piece of information that never found its way into a crucial police report, according to the papers.
The police department referred questions to a spokesman for the city's Law Department, who said the payout was in the best interest of all parties.
Garcia said he's glad to put a cap on the whole saga, which once grabbed many tabloid headlines — and earned another one Wednesday evening when the Daily News first reported the settlement.
"It's not fair what they did," he said. "It makes a lot of good officers look bad."