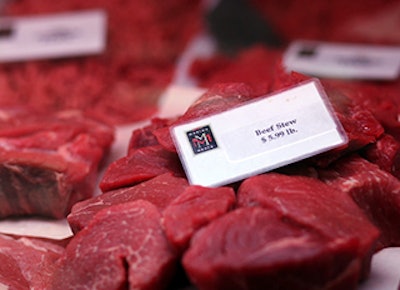 WICHITA, Kan. (AP) — Consumers will likely see a modest uptick in beef prices at the grocery store next year, though most of the significant increases have already happened, a cattle market analyst said Thursday.
CattleFax Executive Vice President Randy Blach told the more than 850 producers attending the Kansas Livestock Association convention they shouldn't get too comfortable with the all-time high cattle market prices, either. Cattle prices are expected to fall next year as the nation's cattle herd expands and the pork and poultry industries bring competition.
This year's record cattle prices were driven by what Blach calls a perfect storm. Last year at this time, meatpackers were paying $130 a hundredweight for cattle, compared to $170 a hundredweight just last week.
"This happened because we had a major, major supply shock and we caught it with an uptick in demand," Blach said.
Rainfall broke the drought in major-cattle producing areas. Falling corn prices and dwindling beef supplies led to high cattle profits. And ranchers held on to their heifers instead of fattening them for slaughter, further tightening cattle supplies.
But limited alternatives to beef for retailers and consumers alike and drove up prices for all the major meats. The porcine epidemic diarrhea virus killed millions of baby pigs, leading to a decline in pork production, and the poultry industry did not have a large enough breeding stock to respond to the market signals.
Pork and poultry production are both anticipated to be up in 2015. Beef supplies will lag until 2016 because it takes far longer to grow a calf to slaughter weight.
However, the cheaper and more readily available other meats are will moderate the rise in beef prices for consumers next year. Good news for beef eaters, who've already seen retail beef prices rise 20 percent in the past 15 months. Recently, the national average retail beef price was $5.95 per pound, he said.
The president and CEO of the nation's third-largest cattle feeding operation says the industry is more concerned about branding — producing a uniform, better-quality product — rather than cattle as a raw commodity.
Friona Industries head Jim Herring also said that the feeding industry is becoming more closely tied to the cattle supply side, with more control over the livestock it buys in order to produce beef that has the consistency of a brand name when it comes to such things as tenderness.
Blach told producers that he anticipated calf prices to remain high the rest of this year and next year, and ranchers will still be able to make a profit even with the expanding cattle herd.
"The prices may not stay quite as strong as they are right now once we get past 2015 but they will still be at very profitable levels for cow-calf producers for the balance of this decade," Blach said.