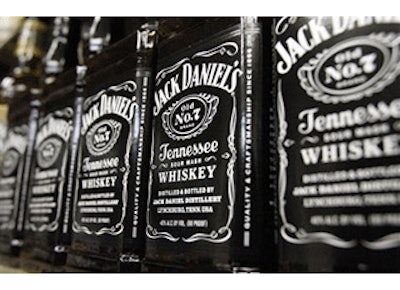 LOUISVILLE, Ky. (AP) — Spirits maker Brown-Forman Corp. said Wednesday its second-quarter net income rose slightly because of sales growth for its flagship Jack Daniel's brand along with its tequilas and pricier premium whiskeys, offsetting declines for some of its other staples.
Underlying net sales for the entire Jack Daniel's brand grew by 7 percent in the first half of the company's fiscal year, led by double-digit growth for Jack Daniel's Tennessee Honey thanks to the product's expansion to new overseas markets.
In another line extension, Brown-Forman said its cinnamon-flavored Jack Daniel's Tennessee Fire will roll out across the U.S. next spring. The company said it was pleased with consumer response to the product in a number of test markets.
The company lowered its full-year profit forecast, however, due to a negative impact from foreign exchange. Brown-Forman said it now expects earnings per share in the range of $3.15 to $3.35, down from its prior forecast of $3.25 to $3.45 per share.
For the second quarter ending Oct. 31, the company reported net income of $208 million, or 97 cents per share. That's up 1 percent from a year ago, when net income was $206 million, or 96 cents per share.
The results missed Wall Street expectations. The average estimate of analysts surveyed by Zacks Investment Research was for earnings of $1.05 per share.
Underlying net sales in the U.S. rose by 5 percent in the first six months of the fiscal year, led by solid sales growth for Jack Daniel's, the company said. Its el Jimador and Herradura tequila brands also posted strong domestic sales growth.
The company said inventories began to rebalance after distributors stocked up in the past year ahead of larger prices increases.
Among Brown-Forman's other leading brands, underlying net sales for Finlandia vodka products declined by 6 percent in the first half of the fiscal year, due mostly to continued weak sales in Poland. Sales for Herradura grew by 19 percent on the same underlying basis, while sales for the el Jimador tequila lineup grew by 4 percent. Net sales for the Southern Comfort brand dropped by 4 percent, due in part to weak sales at bars and restaurants.
The company's lineup of super- and ultra-premium whiskey brands collectively had double-digit growth in underlying net sales. The Woodford Reserve bourbon brand had sales growth of 33 percent. The Canadian Mist brand had a 6 percent drop in net sales.