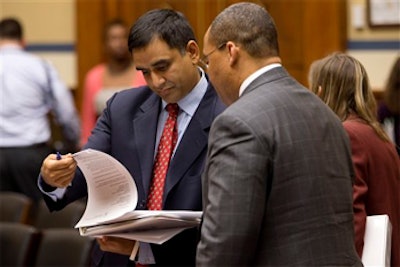 WASHINGTON (AP) — The Senate approved legislation Wednesday to lock in $85 billion in broad federal spending cuts and simultaneously avoid a government shutdown next week — and pointedly rejected a call to even reopen White House tours that the Obama administration says had to be canceled because of the cuts.
If the House goes along, as expected, that means the across-the-board cuts set in motion by a failed earlier deficit-cutting effort and vigorously decried by President Barack Obama last month, will remain in effect for the rest of the fiscal year through Aug. 31.
Some adjustments will be made. Federal meat inspectors were spared furloughs, for example, as lawmakers in both parties alternately clashed and cooperated over proposals to take the edge off the deficit-fighting cuts that took effect on March 1.
The administration — as well as Republicans skeptical of White House insistence that certain cuts were mandated — picked and chose its spots.
"My hope is that gets done," Agriculture Secretary Tom Vilsack said this week of the effort to prevent layoffs among inspectors that could disrupt the nation's food supply chain. That was a departure from the administration's general position that flexibility should ease all the cuts or none at all.
The overall measure passed 73-26. A final House sign-off is expected as early as Thursday, before lawmakers begin a two-week vacation. The legislation provides $982 billion for federal agencies to remain in operation through the Sept. 30 end of the budget year, a level that takes into account the broad, deficit-fighting reductions that Congress passed and Obama signed into law more than a year ago.
Without changes, the $85 billion in cuts for the current year will swell to nearly $1 trillion over a decade, levels that lawmakers in both parties say are unsustainable politically. As a result, negotiations are possible later in the year to replace the reductions with different savings to restrain surging federal deficits.
Political considerations were on ample display in both houses as lawmakers labored over measures relating to spending priorities, both for this year and a decade into the future.
House Republican conservatives engineered a symbolic vote on a 10-year budget drafted by Senate Democrats that would raise taxes by $1 trillion and fail to eliminate deficits for more than two decades. It failed — as the GOP knew it would — on a vote of 154-261.
Rep. Mark Mulvaney, R-S.C., said he had wanted the vote to occur on Obama's budget, but he noted the president hadn't yet released one. 'It's with great regret ... that I'm not able to offer" a presidential budget for a vote, he said. He added he had wanted to vote on a placeholder — "34 pages full of question marks" — but House rules prevented it.
Republicans are expected to approve their own very different budget blueprint on Thursday.
It calls for $4.6 trillion in spending cuts over a decade and no tax increases, a combination that projects to a balanced budget in 10 years' time. That spending plan would indeed be simply a blueprint, lacking any actual control over federal spending.
The issues were grittier in the Senate, where lawmakers grappled with the immediate impact of across-the-board cuts on individual programs.
Sen. Tom Coburn, R-Okla., a deficit hawk, said he wanted to reopen the White House tours, shut down since earlier in the month. He said his proposal would take about $8 million from the National Heritage Partnership Program and apply it toward "opening up the tours at the White House, opening up Yellowstone National Park and the rest of the national parks."
White House press secretary Jay Carney told reporters previously the decision the cancel the White House tours was made by the Secret Service because "it would be, in their view, impossible to staff those tours; that they would have to withdraw staff from those tours in order to avoid more furloughs and overtime pay cuts."
But in remarks on the Senate floor, Coburn said, "This is a Park Service issue, not a Secret Service issue."
Sen. Jack Reed, D-R.I., said the funds involved in Coburn's amendment would not go to the Secret Service, and as a result the tours "would not be affected." He also said the Heritage program, a public-private partnership, helps produce economic development and should not be cut.
The vote was 54-45 against the proposal. Montana Sen. Max Baucus, whose state borders on Yellowstone National Park, was the only Democrat to vote with Republicans.
The Park Service has announced some parks may open late to automobile traffic this spring because budget cuts have reduced funds available to clear roads of winter snow.
The overall legislation locks in the $85 billion in spending cuts through the end of the budget year, yet provides several departments and agencies with flexibility in coping with them. It extends flexibility to the Pentagon, the departments of Homeland Security, Veterans Affairs, Justice, State and Commerce and the Food and Drug Administration.
But bipartisanship has its limits, and in private negotiations Republicans rejected Democratic attempts to provide flexibility for the rest of the government.
That set off a scramble among lawmakers to round up support for changes on a case-by-case basis.
The provision to prevent furloughs for federal meat inspectors had the support of industry as well as from both sides of the political aisle and cleared without a vote. It was supported by Sen. Mark Pryor of Arkansas, a Democrat seeking re-election next year, and Sen. Roy Blunt of Missouri, who quietly helped Democrats round up the votes they needed to clear the legislation over a procedural hurdle.
The effect was to transfer $55 million to the Agriculture Department's Food Safety and Inspection Service from other accounts within the department, including deferred maintenance.
"Without this funding, every meat, poultry, and egg processing facility in the country would be forced to shut down for up to two weeks," said Blunt. "That means high food prices and less work for the hardworking Americans who work in these facilities nationwide."
In contrast to Blunt, Sen. Jerry Moran, R-Kansas, opposed Democrats when they sought to overcome procedural hurdles earlier in the week.
In the days since, he repeatedly refused to let the bill advance unless he was given a chance to cancel about $50 million in cuts aimed at contract employees at more than 170 air traffic facilities around the country. In the end, his amendment was jettisoned without a vote.