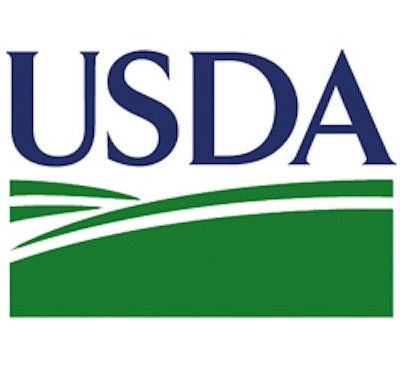 ATLANTA (USDA) — Agriculture Secretary Tom Vilsack today outlined the need for a renewed commitment to improve childhood nutrition, which will lead to a healthier generation of Americans and a productive workforce to keep growing American business.
In remarks at a meeting with the United Parcel Service of America (UPS) and Georgia business leaders, Vilsack noted USDA has made significant focus on improving consumers' access to information and helping consumers have better access to food, which can help our nation combat obesity and malnutrition — raising a generation of young people who succeed in school and graduate ready to achieve great things.
"We know that people who eat right and exercise are healthier and more productive. We also know that when children get enough to eat, they do better on tests and are more likely to graduate," said Secretary Vilsack. "Focusing on childhood nutrition today will result in a more productive and skilled workforce, and contribute to a strong economy in the decades to come."
Secretary Vilsack noted the twin threats of childhood obesity and malnutrition to a healthier next generation. Over the course of the past 30 years, the prevalence of childhood obesity has nearly tripled. Nearly one in three American children and adolescents today are overweight or obese. Some of those children come from low-income families, where access to healthy food choices and opportunities for physical activity can be limited. Nearly a third of our nation's young people are at risk for preventable diseases like type-2 diabetes and heart disease. Preventable diseases have serious consequences – which is why health experts tell us that our current generation of children may well have a shorter lifespan than their parents.
Vilsack said that USDA empowers Americans to make healthier food choices by providing science-based information and advice, while expanding access to healthy food availability.
USDA's MyPlate symbol and the resources at ChooseMyPlate.gov provide quick, easy reference tools for parents, teachers, healthcare professionals and communities.
USDA also created SuperTracker, a free online planning and tracking tool used by over two million Americans daily to help them improve food choices, maintain a healthy weight, and track physical activity.
America's students now have healthier and more nutritious school meals due to improved nutrition standards implemented as a result of the historic Healthy, Hunger-Free Kids Act of 2010.
Through USDA's Know Your Farmer, Know Your Food initiative, the Department has worked to increase access to nutritious food through the development of strong local and regional food systems. The number of farmers markets increased by more than 67 percent in the last four years and there are now more than 220 regional food hubs in operation around the country.
USDA launched a new $5 million Farm to School grant program in 2012 to increase the amount of healthy, local food in schools. This includes three current Farm to School grant efforts in Georgia.
In his meeting with UPS, the Secretary also noted the importance of expanded markets abroad – which will help rural America create more jobs, while boosting the bottom line for companies all along the supply chain. Since 2009, the Obama Administration has achieved new trade agreements with Colombia, Panama and South Korea – and USDA is engaged in helping President Obama achieve new trade with Europe, Asia and other areas throughout the world.
Agricultural exports are a particularly bright spot in the U.S. economy today, with more than $478 billion in agricultural exports from 2009-2012 – the strongest four-year period in our nation's history. Secretary Vilsack noted that President Obama's National Export Initiative has set a goal to double exports by 2015 – and he thanked UPS CEO Scott Davis for his continuing service on the President's Export Council.