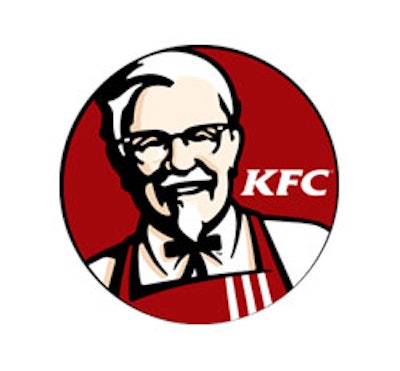 NEW YORK (AP) — Yum Brands says publicity surrounding a new strain of flu is hurting its KFC sales in China, putting added pressure on its efforts to recover from an earlier controversy over its chicken suppliers.
The Louisville, Ky.-based company said in a regulatory filing Wednesday that the new bird flu cases have had a "significant, negative impact" on KFC in the past week. The news comes at a sensitive time for the company, which has been working to rebuild trust with customers following a TV report that its suppliers were giving chickens unapproved levels of antibiotics.
That report already sent sales plummeting for Yum, which is the biggest Western fast-food operator in China with about 5,300 locations. For March, Yum said sales at restaurants in China open at least a year fell 13 percent, including a 16 percent drop at KFC and a 4 percent gain at Pizza Hut.
The decline follows a 20 percent drop for January and February.
The impact from the bird flu cases would be reflected in April's sales results, which will be reported May 10.
"Historically in these situations, we have educated consumers that properly cooked chicken is perfectly safe to eat, and we will continue to do so," Yum said of the bird flu scare in the filing with the Securities and Exchange Commission.
China announced the first known cases of a new strain of bird flu on March 31. The reports have sparked concerns among experts that the virus could mutate in a way that allows it to spread easily among people. Although there has been no sign of human-to-human transmission so far, the virus has infected 33 people and nine killed. On Wednesday, China's premier said that efforts to prevent and contain the virus were proceeding in an orderly manner.
Yum has been reporting monthly sales figures for China to keep investors updated on its recovery efforts in relation to the supplier scandal. As part of its push to regain trust with customers, it had announced the elimination of more than 1,000 small producers from its chicken supplier network and strengthened oversight over farmers.
CEO David Novak has noted that Yum has overcome major ordeals in the past, such as a bird flu scare in 2005 that dragged down sales by as much as 40 percent. And the company hasn't adjusted its aggressive plans for expansion in the country.
Nevertheless, Yum has warned that that it expects its profit to fall in 2013 as a result of the chicken supplier scandal. That would snap an 11-year streak of double-digit growth.
Yum has more than 39,000 locations worldwide and China has been a critical engine of growth for the company because of the country's rapidly growing ranks of middle-class consumers.
Shares of Yum Brands Inc., which also owns Taco Bell, were down almost 2 percent at $65.50 in after-hours trading.