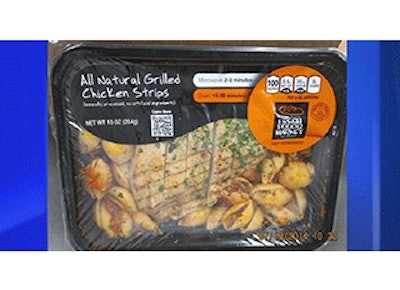 RALEIGH, N.C. (AP) — A North Carolina company is recalling approximately 200 pounds of grilled chicken entrees because they were mislabeled and contain milk, an allergen not declared on the label.
The U.S. Department of Agriculture's Food Safety and Inspection Service announced the recall by B. Roberts Foods of Charlotte, North Carolina, on Friday.
A statement says the top label of the 10-ounce packages of Harris Teeter, Fresh Foods Market, Deli-Bakery, All Natural Grilled Chicken Strips reads "All Natural Grilled Chicken Strips." The bottom label reads "Grilled Chicken Breast with Lemon Spaghettini."
Both labels should read "Grilled Chicken Breast with Sundried Tomato Pasta." B. Roberts blamed worker error for the mislabeled packages.
The product was distributed to stores in Delaware, Florida, Georgia, Maryland, North Carolina, South Carolina, Tennessee, Virginia and the District of Columbia.