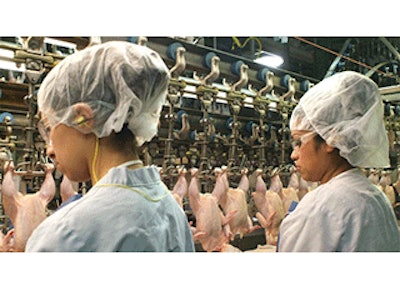 WASHINGTON, D.C. — The U.S. Department of Agriculture (USDA) issued a final regulation on food safety inspection in U.S. poultry processing plants. As a result of more than two years of intense advocacy by workers, civil rights leaders and consumer voices, including NCLR (National Council of La Raza), the final rule will not allow poultry companies to speed up chicken production lines. The proposed rule would have allowed poultry companies to speed up production from 140 to 175 birds per minute—a 25 percent increase—in exchange for adopting new food safety measures. Line speed is a major factor in the high rate of traumatic injuries among poultry workers, more than one-third of whom are Latino.
"Responding to a key concern raised by the courageous poultry workers who exposed the human cost of bringing chicken to our dinner plates, Secretary of Agriculture Tom Vilsack and Secretary of Labor Tom Perez today took an important step to prioritize worker safety," said Janet Murguía, President and CEO of NCLR. "Although life-altering injuries are already far too widespread among this workforce, I am proud to say that the collective efforts of tireless advocates helped the administration prevent a bad situation from becoming worse."
While the final rule does not allow for accelerated line speed in chicken production plants, it allows turkey production plants, about 30 nationwide, to process an additional four birds per minute. The rule does call for increased collaboration between the USDA, the U.S. Department of Labor and other agencies to advance worker safety. However, poultry workers have no industry-specific enforceable standards on occupational injury and illness.
"In order to truly modernize the poultry industry, there must be standards in place to keep workers safe and healthy on the job. NCLR looks forward to collaborating with the USDA, the U.S. Department of Labor and other federal agencies to vigorously improve working conditions in the poultry industry," Murguía concluded.
NCLR—the largest national Hispanic civil rights and advocacy organization in the United States—works to improve opportunities for Hispanic Americans. For more information on NCLR, please visit www.nclr.org or follow along on Facebook and Twitter.