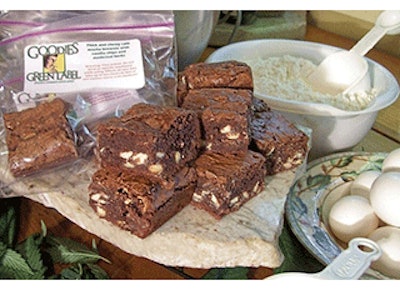 GOLDEN, Colo. (AP) — A Colorado task force wrapped up a final task force meeting on Monday with no consensus on what marijuana-infused foods and drinks should look like.
The group of regulators, law enforcement, parent groups and edible-pot makers has mostly argued about whether it would be possible to make sure pot products don't look like regular foods. Instead, marijuana regulators decided to send lawmakers several proposals.
The state Health Department has called for new markings to go on marijuana products, with a future commission to be set up to pre-approve items what kinds of foods can be made with marijuana.
"We are concerned that the products look enticing to children," said Jeff Lawrence, the agency's representative on the workgroup.
Some policy makers say edible pot products that can't be easily marked, such as granola or liquids, should simply be banned.
"We always need to keep public safety and public health as the top priority," said Mario Vasquez, police chief in Erie and the representative from the Colorado Association of Chiefs of Police.
But through four long and contentious meetings, the marijuana-industry representatives called those suggestions unworkable and illegal. The voter-approved constitutional amendment legalizing pot makes it legal in all forms, making it doubtful whether a ban on certain kinds of pot candy would be vulnerable to legal challenge.
"At some point the consumer has to take responsibility," said Bob Eschino, head of Medically Correct, which makes the popular Incredibles line of marijuana-infused candies.
The industry got some support from an unexpected corner — the medical community. A representative from Children's Hospital Colorado, Dr. Lilit Bajaj, worries that edible-pot markings could have the opposite effect intended.
"The unintended consequences of marking things could make them more attractive and not less attractive to adolescents," Bajaj said.
But the author of the edible-pot law, Rep. Jonathan Singer, insisted that marijuana edibles should have an unmistakable look.
"I want to know the difference between a marijuana cookie and a Chips Ahoy just by looking at it," said Singer, D-Longmont.
The ultimate decision will be made by next year's state Legislature. The law says recreational edible marijuana on store shelves must have a distinct look by 2016.
Also Wednesday, the Rocky Mountain Poison and Drug Center released a one-page summary on cases of accidental pot ingestions.
The agency reported that calls about children ingesting marijuana have gone up in recent years. The Center got 26 marijuana-related calls last year, up from seven calls in 2001. Over the 12-year period, 79 percent of the exposures were in the child's house and 23 percent were admitted to a health care facility. There were no deaths.
Marijuana producers have pressed for details on how many of those cases came from store-bought pot, and how many came from homemade items such as pot brownies. Authorities don't keep that data, prompting industry representatives to argue that requiring retail edibles to have a distinct look may not reduce marijuana accidents.
"The most basic data of the scope of the problem is not available right now," said Ian Barringer, owner of Rm3 Labs, which tests commercial marijuana products before they can be sold.