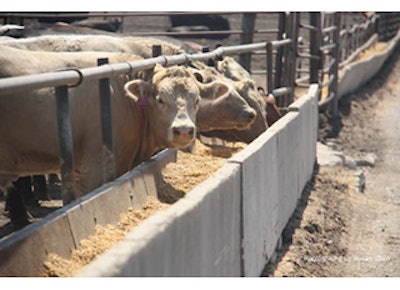 SPRINGFIELD, Neb. (PRNewswire) — "No amount of drug maker-sponsored study or 5-step PR spin campaign will convince us that beta agonists belong in beef production. We hope processors continue to resist accepting Zilmax-fed cattle for animal welfare, and to preserve USA beef quality, consistency and integrity," said Beef Additive Alert™ co-founder Gerald Timmerman.
Merck Animal Health is taking steps to re-introduce to market the potent FDA-approved profit-enhancing, weight-gain feed drug Zilmax (Zilpaterol) after the drug maker voluntarily suspended sales in Summer 2013, amid animal welfare concerns of hoof loss and lameness that required cattle to be destroyed, as Reuters reported.
The steps include press release, mass online ads directing to a "Responsible Beef" website, a lower dose re-labeling alternative and feeder certification. Wall Street Journal reports Merck's plan to launch a 250,000 cattle in-field study last summer failed to materialize due to beef processor uneasiness.
Since Merck pulled Zilmax, Reuters reports cattle feeders have switched to beta agonist rival product Ractopamine marketed as Optaflexx produced by Elanco Animal Health, which we think is irresponsible and unacceptable. 
No manufacturers were named, but eleven Ractopamine-based drugs used in cattle, pigs and turkeys are the subject of a federal lawsuit recently filed by the Center for Food Safety claiming the Food and Drug Administration approved the beta agonist class of drugs without fully examining if "Ractopamine is safe for the environment, animals or people." The lawsuit "asks the Court to set aside FDA's unlawful approvals." U.S. exports of Ractopamine-fed animals are banned by major global importers, 160 countries including China and the European Union for human health concerns.
"Consumers here and abroad do not want their food produced with lab-produced chemicals, coupled with no food labeling and lack of transparency. Beta agonists tend to reduce marbling. Steaks taste tougher, are less juicy and tender," said Beef Additive Alert™ co-founder Harvey Dietrich.
"We also describe as gobbledygook the myth that beta agonists, adding an extra 24-33 pounds of marketable beef per head, will solve the world's hunger programs. The actual feed conversion rate demonstrates that beef with or without beta agonists is too expensive to feed the world. Raising chicken, pork and fish costs considerably less and is the only solution," emphasizes Susan Stern, Beef Additive Alert's spokeswoman.
As veteran American cattle ranchers and beef enthusiasts our national consumer advocacy group opposes the widespread use of pharmaceuticals in USA food production.