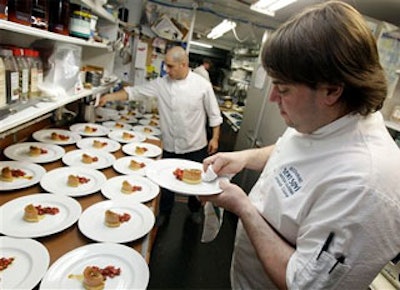 SAN FRANCISCO (AP) — California's new ban on the production and sale of foie gras took eight years to go into effect, but restaurants have wasted little time in finding creative ways to duck the law.
The delicacy sparked the ire of animal rights' activists because it is made from the engorged livers of ducks or geese that are force-fed through funnel-like tubes. It became illegal in the state this month to make or sell food derived from force-fed birds.
Restaurateurs and chefs, however, are using loopholes and clever wordplay to keep the dish on the market, a sign that passions run high on both sides of the issue.
Presidio Social Club, a restaurant located on a former military base owned by the National Park Service, put foie gras back on its menu on Saturday. Its owners claim the state ban does not apply to them since the eatery is on federal land.
Chefs at Hot's Kitchen in Los Angeles County and Chez TJ restaurant in Mountain View, Calif., are giving away foie gras as free additions, arguing that the ban does not explicitly prohibit distribution.
Other establishments, like San Francisco's Palio d'Asti, are offering to have their chefs prepare any foie gras brought in by customers.
Rob Black, the executive director of the Golden Gate Restaurant Association, said these actions reflect how the law created an "environment where you don't know what's legal. It creates confusion what restaurants or distributers can or can't do."
The attempts to get around the ban have angered the man who introduced it in 2004, former state Sen. John Burton.
"Shame on them, it's the law," Burton said, adding that enforcing the law should focus on farms that force feed birds and not restaurants. "The bill has nothing to do with food; it has to do with cruelty to animals."
Animal control officers have investigated one restaurant in San Francisco and plan to investigate another for selling foie gras. Representatives say restaurants that exploit loopholes put them in a bind.
"I think the law has some major loopholes, and we cannot extend the law," said Animal Care and Control Deputy Director Kat Brown.
Elsewhere in the state, responsibility for enforcement is unclear. In Los Angeles County, the Department of Public Health plans to investigate restaurants that sell foie gras as part of its health inspections unless told otherwise, representative Angelo Bellomo said.
But other agencies that can fine offenders do not have the means to do so.
"With budget cuts, this just isn't something we can add to our plate right now," said Marcia Mayeda, director of Los Angeles County's Department of Animal Care and Control.
Legal experts say the Presidio Social Club might be on safe legal ground in defying the ban because courts have held that state regulations generally do not apply to federal property. They do not hold sway on Native American reservations either.
But some business owners say they will follow the law even if they may not have to, including restaurants in national parks such as Yosemite. Some California casinos on Native American reservations also removed foie gras from their menus.
"We felt like the general public's desire to have (foie gras) eliminated from menus in California was more significant than keeping it on the menu," Thunder Valley Casino spokesman Doug Elmets said.