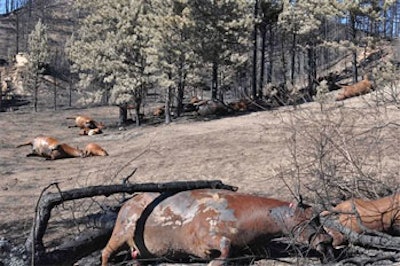 VOLBORG, Mont. (AP) — Cecil and Delores Kolka thought they escaped the worst of the Ash Creek Fire when the 390-square-mile blaze spared their home and several pastures as it ripped through the couple's Montana cattle ranch.
But when the family went to round up their livestock they encountered carnage — the charred and bloated bodies of an estimated 400 cows and calves killed as the fire torched a series of narrow, thickly forested draws on the nearby Custer National Forest.
Some surviving animals were burned so badly that their hides were peeling. The worst off were shot in mercy killings. Others now limp by on burnt hooves, and less than half the family's herd remains.
"Before we found our cattle we said at least we've got our homes and are all safe," Delores Kolka said. "In truth, we would have rather lost everything here except our cattle."
Across the West, major wildfires are wreaking havoc this summer on the region's economically fragile livestock industry. In areas such as remote Powder River County, Mont., ranchers said they could be grappling with the devastation for years to come.
Hay is in short supply. Hundreds of miles of fence and numerous corrals and water tanks must be rebuilt. Thousands of head of displaced livestock are being shipped to temporary pastures.
Similar scenes are playing out in Oregon, New Mexico, Colorado, Wyoming and Idaho. Including Montana, the value of the six states' cattle industries approaches $9 billion annually.
Hundreds of thousands of acres of grazing land have burned so far — with months to go in the annual fire season.
The number of fires and total acreage burned in the West this summer is roughly within range of the past decade's average. What's different is where those fires are burning, as major blazes erupt on grasslands and brush where livestock can be more prevalent, said Jennifer Smith with the National Interagency Fire Center in Boise, Idaho.
And that's all set against a backdrop of a crushing drought that has set in for much of the region. If the dry conditions persist, the recovery of burned areas could stall, forcing cattle owners to sell their animals or seek more lasting alternatives to the private pastures and public lands they've run livestock on for generations.
Perhaps 200 cattle have been killed in Wyoming and about 225 in Oregon, ranchers and officials in those states said. The numbers are growing as cattle die from injuries, illness and stress.
In remote southeastern Oregon, ranchers Rich and Jeanette Yturriondobeitia lost a third of their 300-head cow-calf operation. Rich Yturriondobeitia had to shoot six cows at one watering trough.
"I can talk about it now and not cry," said Jeanette. "My husband still can't talk about it. The cattle, oh crud we even had some of them named."
She said her husband "found a bunch of them that tried to outrun the fire and couldn't. He won't let me go see it. It was pretty bad."
In Montana, as the Ash Creek fire approached earlier this month, Cecil Kolka and others cut barbed-wire fences and opened gates to give livestock a chance to escape over rock-strewn ridgelines that dominate the landscape.
How so many cattle were killed remains uncertain. Several dead deer and a dead coyote found among the burned cattle suggest the fire simply outran them.
Like others, the Kolkas said they likely won't know the full extent of their losses for months.
"We're still finding dead ones, and we haven't been able to account for quite a few of them," Cecil Kolka said as he drove through the sprawling ranch he runs with his son and daughter-in-law, Dean and Jill Kolka.
Near a water tank where surviving animals were taken to recover, calves with burnt hooves limped painfully through the mud. Numerous cows had blackened teats on their udders. One mother cow stood vigil over a dying calf that could barely lift its head. Kolka said the animal likely would have to be put down.
The overall fatalities are tiny compared to 30 million beef cattle nationwide. That means the fires will have minimal effect on beef prices, which already were high due to a drought-related spike in feed costs and demand from export markets, said Dave Bohnert with the Oregon State University Extension Service.
But within rural economies, the impacts are magnified.
Oregon's Harney County, for example, is wide open country where some ranchers drive 120 miles for groceries. Its 71,000 cattle outnumber the people nearly 10 to one.
Though not one house there was lost to the 870-square-mile Long Draw Fire, it destroyed the food for tens of thousands of cattle, and left half a dozen ranching families wondering if they will be able to send their kids to college or even stay on the land they love.
Some ranchers say the federal government didn't do enough to stop the spread of fires that have burned more than 3,000 square miles of range and forest in the West so far this summer. They contend that restrictions on logging and grazing allowed too much fuel to accumulate in forests and on the prairies, and that limits on road construction hindered access to fire areas.
Environmentalists cite warming temperatures due to climate change as a major culprit. They also argue grazing spreads non-native plants that are quick to burn.
Regardless, the most immediate problem for ranchers who saved their cattle is how to feed them.
The drought already has driven up hay and corn prices. Pasture is at a premium. And emergency grazing lands released by the U.S. Department of Agriculture can be hundreds of miles away, leaving ranchers wondering how they could ever pay shipping costs.
A Wyoming fire that burned through 153 square miles of remote pine forest and meadows in Medicine Bow National Forest displaced as many as 10,000 cattle.
Meanwhile, disaster programs ranchers normally look to are not available until Congress enacts a new Farm Bill.
"What it does for so many is turn an already slim profit margin into a negative margin," said Wyatt Prescott, executive director of the Idaho Cattle Association.
Ranchers depend heavily on federal grazing allotments, which sell for $1.35 for the right to graze a cow and her calf for a month. But after the ranchers foot the bill for fences and water improvements, the cost is more like $30, said Stacy Davies, manager of the Roaring Springs Ranch outside Frenchglen, Ore.
That is a fraction of the cost of feeding a cow on hay, which runs around $90 to $100 a month since the drought has driven up hay prices, he added.
Ranchers won't be able to graze burned allotments for two years after they burn, unless federal policy changes.
Next door to the Kolka ranch, Marian Hanson says the fire destroyed up to 85 percent of the grazing land on ranches she runs with her daughter and grandson. She has transferred several hundred cattle to locations scattered across Montana.
Her grown grandsons, Blaine and Bob, have been spending their days pulling up burned fence posts, coiling ruined barbed wire and sawing down burned trees.
"There's not enough here for cows to eat," Bob Hanson said as he worked in a stand of blackened pine trees. "We lost a bunch of buildings, too, but it ain't nothing like Cecil and Dean (Kolka). That's heartbreaking."
__
Contributions from Todd Dvorak in Boise, Idaho; Nigel Dura in Portland, Ore.; Mead Gruver in Cheyenne, Wyo. and Susan Montoya Bryan in Albuquerque, N.M. Barnard reported from Grants Pass, Ore.