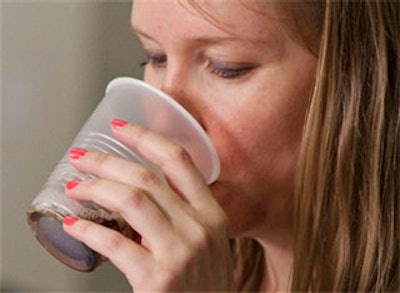 NEW YORK (AP) — Ask five strangers to taste five new diet sodas and you might get one opinion: Try again.
As soda consumption has declined over the past several years amid worries about the nation's obesity rates, The Coca-Cola Co., PepsiCo Inc. and Dr Pepper Snapple Group Inc. have worked to come up with sodas that have fewer calories but still taste good.
So The Associated Press asked a panel that included a food blogger and Bruce Bozzi, who heads marketing at The Palm steakhouses, to come to its New York City headquarters to gauge how the latest generation of low-calorie sodas stack up to the originals. The verdict? Soft drink makers have a long way to go.
On tap for the taste test were:
— Pepsi Next, which has about half the calories of regular Pepsi at 60 calories per can.
—10-calorie versions of Dr Pepper's Sunkist and A&W Root Beer, which are supposed to have a fuller taste than their zero-calorie, diet counterparts.
— Coca-Cola's Sprite Select and Fanta Select, which are made with natural sweeteners and have 70 calories a can, versus about 140 and 160 for regular Sprite and Fanta, respectively.
Only Pepsi Next, which hit shelves in March, is available nationally. The rest are still being tested in select markets.
When it comes to mimicking the original, Pepsi Next generally fared the best. As with most regular sodas, Pepsi is sweetened with high-fructose corn syrup, which has the same nutritional value as sugar. Pepsi Next reduces the amount of high-fructose corn syrup — and calories — and replaces it with artificial sweeteners like aspartame that are used in traditional diet sodas.
But the similarities between Pepsi Next and Pepsi were a problem for some testers. Stephanie Klose, a food blogger for Serious Eats, said both tasted fake and overly sweet.
"Pepsi is an overly sweet soda, so the whole brand colors the taste," said North Landesman, a middle school history teacher and self-proclaimed soda aficionado. "It's so sweet that the first sip is always really good. But the more you drink, the worse it tastes."
In a statement, Pepsi noted it has tested Next extensively and that its research shows that the drink "meets or exceeds taste expectations."
Another opinion was unanimous among the taste testers: nobody liked Fanta — either the regular or the mid-calorie version made with stevia, a zero-calorie sweetener that comes from a South American plant. Will Carlough, who is loyal to regular Coke, grimaced after taking sips of each.
"I can't tell the difference," said Carlough, a 34-year old programmer at social media site Meetup.com.
Sprite Select, which is also made with stevia, also was deemed too fake. The "weird" aftertaste gave it away immediately from the original Sprite, which the panel loved.
"It tasted like a dissolving packet of aspartame," Klose, the food blogger, said.
Landesman, the teacher, compared Sprite Select to an open can of regular Sprite that had been sitting in the fridge for four days. "I would rather drink tap water than this," he said.
Bozzi, a diet soda loyalist, didn't like Sprite Select either and said he wouldn't drink it again. Still, he said he'd be willing to sacrifice taste for the right drink made with a natural sweetener and no calories. Bozzi, who is the great grandson of one of The Palm's co-founders, just hasn't found the right one yet.
The Coca-Cola Co., which has previously noted that the Selects are only being tested in four cities to gauge demand, declined to comment.
As for Sunkist and A&W Root Beer, the majority of the panel detected a slightly more syrupy and thick taste in the 10-calorie versions, which use a mix of high-fructose corn syrup and artificial sweeteners. They said the original Sunkist had a lighter more citrusy taste.
Dr Pepper said in a statement that it is hearing positive feedback on trials of its other 10-calorie drinks. The company also said that its Dr Pepper Ten drink, which was launched last year and uses the same sweetener formula, helped drive its sales volume up 1 percent in the second quarter.
"This shows that we are hitting the mark with consumers who want a full taste experience in a low-calorie drink," the company said.
Nicole Evatt, an entertainment producer for the AP who regularly drinks diet sodas, may be among the new customers. After several thoughtful sips of the two Sunkist drinks, she gave up on trying to determine which was which.
"I have no idea," she said.