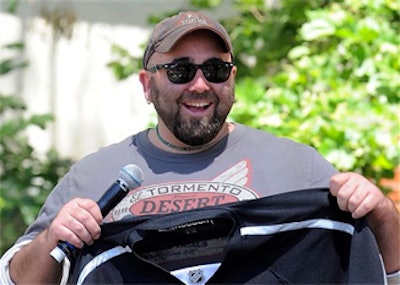 WASHINGTON (AP) — Baltimore celebrity baker Duff Goldman says the cake he's baking for President Barack Obama's inaugural ball is going to be more elegant than crazy, full of stars and stripes and a whole lot of glitter.
Goldman says the staff at his Charm City Cakes bakery, which had its extreme cakes featured in the Food Network show "Ace of Cakes," began Friday to decorate the details to put on the cake. They'll start baking the cake itself on Sunday, the day before the inauguration and the Commander in Chief's Ball where the cake will be served.
The finished product will stand 3 to 4 feet tall, drip with patriotic fondant bunting and sparkle with clusters of stars shooting out like fireworks.
"Glitter is going to be all over the place," Goldman said in a telephone interview.
On Saturday, four bakers were in the process of replicating in fondant and royal icing the presidential seal and the seals of the four military branches honored at the Commander in Chief's Ball. Goldman said they are focused on the details, such as making sure the eagle in the presidential seal faces the correct way and that the bird holds exactly six arrows in its talons. They also want to make sure they spell the Latin motto on the seal correctly: E pluribus unum.
"This is one you really want to spellcheck, big time," said Goldman, whose television show ran for 10 seasons before going off the air in 2011.
Goldman said the whole cake will take about 100 hours to complete. When finished, it is expected to weigh 50 pounds and serve several hundred people. Inside, guests will find Swiss buttercream frosting and layers of red velvet, lemon poppy seed, pineapple coconut, and pumpkin chocolate chip cake.
This isn't the only inauguration cake the bakery is making. Goldman says he is baking five other cakes for various inauguration events, including a 4-foot replica of the White House. Still, the Commander in Chief's Ball cake is special because the event at the Washington Convention Center is one of only two official parties the president will attend.
Goldman said he played it cool when the Presidential Inaugural Committee called about two weeks ago to ask him to make a cake.
"When you get off the phone you get to scream, 'We're making the inaugural cake,'" he said.