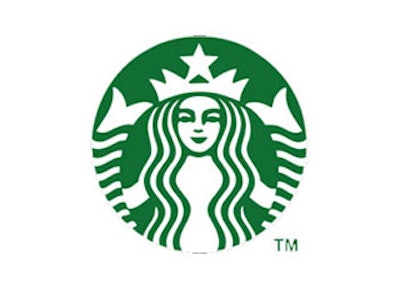 NEW YORK (AP) — Americans may not feel optimistic about the economy but they're still spending more at Starbucks.
The world's biggest coffee chain said Thursday that its profit rose in its fiscal second quarter as a key sales figure climbed in the U.S., its biggest market. New drinks and food, such as its sandwiches and pre-packaged lunch boxes, helped lift sales.
A 7 percent sales bump at U.S. cafes open at least 13 months came despite the broader industry's struggles to grow at a time when other fast-food companies say people are being more careful with money. McDonald's and Burger King saw sales decline during the first three months of the year and even Chipotle, which has grown rapidly in recent years, said sales at established restaurants grew just 1 percent.
Earlier this month, an Associated Press-GfK poll found only one in four Americans expects his or her financial situation to improve over the next year.
Starbucks has been evolving its mix of food and drinks and expanding overseas as it faces intensifying competition at home from fast-food chains, which are offering more lattes and frozen coffee drinks. For example, the company recently started rolling out Evolution bottled juices in its cafes and new baked goods from a San Francisco bakery chain are expected in all stores by the end of 2014.
Chief Financial Officer Troy Alstead said the hope is that Starbucks will become more of a lunch destination. He noted that traffic was growing in the afternoon hours, when traffic is generally slower than the morning rush.
The company also is making a big push behind its loyalty program, a move that's expected to get people to come back more often and spend more when they visit. A recent offer for a $5 gift card for joining the program resulted in 1 million new registered members, the company said.
Starbucks, which has 18,000 locations around the world, said global sales at established cafes rose 6 percent during the period. That included an 8 percent increase in Asia, where the company has been focusing its expansion efforts.
But the figure fell 2 percent in Europe, where Starbucks has struggled to compete with local chains. The company also says the economy has made its turnaround push particularly difficult.
"It just continues to be a tough environment for us — and for everyone," Alstead said.
To improve results in the region, the company is shifting to more of a licensing model that lowers overhead costs and hands over control to local partners who may be more adept at adapting to local tastes.
Based on the momentum seen through the first half of the fiscal year, Starbucks said it was raising its outlook for 2013. But total sales came in shy of Wall Street expectations and its shares fell in afterhours trading.
For the quarter, Starbucks earned $390.4 million, or 51 cents per share. That's up from $309.9 million, or 40 cents per share, a year ago. Not including one-time items, it earned 48 cents per share, in line with analyst estimates.
Revenue rose 11 percent to $3.56 billion. But that was shy of the $3.58 billion Wall Street expected, according to FactSet.
Shares of Starbucks fell 3 percent to $58.75.
The company says it now expect full-year earnings of $2.12 to $2.18, up from the previous forecast of $2.06 to $2.15 per share.