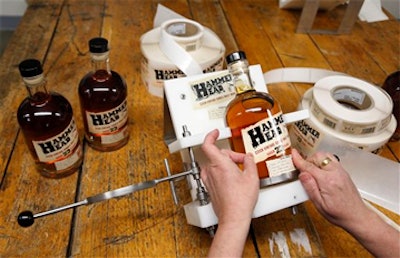 PRADLO DISTILLERY, Czech Republic (AP) — The Scottish peat was put on trucks and trains. The destination was Communist-era Czechoslovakia. The recipient: apparatchiks desperate for a decent whisky.
The journey beyond the Iron Curtain during the Cold War turned out to be the easy part. When the batch arrived, the Czech distillers had only a faint idea how to make whisky — and it took years to get things right.
"It was one thing to read about it in books, but reality is something different," recalled Vaclav Sitner, a member of the team tasked with creating a premium whisky.
Now, almost 40 years on, the last batches of "Hammer Head" are winning rave reviews. And, in a historical twist, they are owned by a U.S. hedge fund that bought the beverage company that Sitner worked for.
Sitner, whose name still appears on the label, recalls the "alchemy" and "joy" as they concocted the whisky. It sold well despite its relatively high price in a communist economy.
In Czechoslovakia, living standards were higher than in most other communist nations, but only a limited variety of Western products were available at special stores for those privileged enough to have access to foreign currency. In common stores, there was a significant shortage of Western goods, from bananas to electronics.
"There were no means to import foreign whisky," Sitner said. Communist states' currencies were not convertible and the struggling command economies failed to produce enough decent goods to sell in exchange for hard currency.
The original plan was to source all the ingredients and equipment locally — but met no luck.
"The problem was with the peat, because it didn't work," said Sitner. "The peat we had was from South Bohemia and in combination with oak shavings it created all sorts of problems."
"It was the most expensive peat in Europe. The (Scottish) peat didn't actually cost that much but the transport cost a fortune. We placed it on trucks and a train carriage. One carriage was enough for us for 5-6 years."
Sitner and his colleagues had to rely completely on their own skills since they had no chance to travel to Scotland to visit distilleries. They needed a good barley supplier and knowledge of how to grind it, a source of suitable water and new oak barrels where the product could mature for at least three years.
A small distillery in Pradlo, in the west of the country, coincidentally had a hammer mill of the kind used in Scottish distilleries. Dating from the 1920s, it was the only one in the entire country. Work started in 1976; three years of tests were needed before trial production could start — and mass production started eight years later.
Communist apparatchiks liked it so much that the bottles became a favored present.
"The comrades liked to drink whisky, despite the fact that people (in those days) were obligated to drink vodka," Sitner said. "But comrades still liked the whisky."
The 1989 Velvet Revolution toppled the regime and the Czech whisky also vanished from sight as the market was flooded by whiskies from all over the world. Then whisky ceased to be made for good. What left had time to mature in the original oak barrels for years to improve gradually into its current level of excellence.
The liquor company that the distillery belonged to, Stock Plzen-Bozkov, was privatized. The new owners felt the drink had no future. They sold some 250 barrels for a ridiculously low price — "barbarism," recalled Sitner.
In 2007, U.S. hedge fund Oaktree Capital Management acquired the company.
When officials from London-based Stock Spirits Group that controls the company for the fund were presented the local whisky, their first response was "impossible it was made here," Sitner remembered. After it passed a test in a tasting with some other single malt whiskies that followed, the company decided to put it on the market.
"Look at the gold," Sitner said with pride during a recent visit to Pradlo cellar where hundreds the original oak barrels are still in place. "It's a beautiful color," he said, holding a glass just taken from a barrel.
Demand for Hammer Head has been solid around the globe, but Sitner would not reveal how much was made and how much is still available. He would only said if the current sales remain at the same level of 10,000 - 15,000 bottles a year, it is expected to be sold out in five to seven years. The whisky sells for about €45 ($59) a bottle.
Since 2011, Hammer Head has been listed in Jim Murray's Whisky Bible, an annual international whisky guide, where it scored 88.5 points out of 100 — putting it among "very good to excellent whiskies definitely worth buying."
"This is one of Europe's maltiest drams ... if not the maltiest," the guide said.
In 2011, it won a Masters award at the 2011 Whiskeys of the World Masters.
Petr Nemy, an organizer of whisky tastings from the Scottish Club in Prague said that after more than 20 years of aging, Hammer Head "is beautifully matured. It's delicately malty and smoky with a taste of nuts and maybe, vanilla. It has a beautifully rounded taste. It's a joy to taste it."