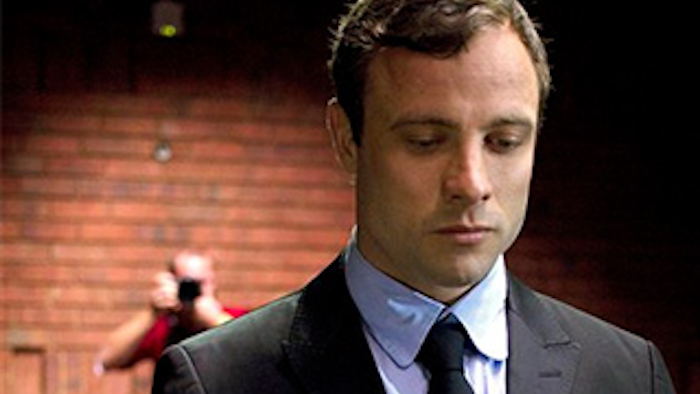 In this Monday, Aug. 19, 2013 file photo, double-amputee Olympian Oscar Pistorius appears at the magistrates court to be indicted on charges of murder and illegal possession of ammunition for the shooting death of his girlfriend on Valentine's Day in Pretoria, South Africa. A South Africa judge ruled Tuesday that television stations can broadcast parts of Oscar Pistorius' murder trial live, but with restrictions on witness testimonies. (AP Photo/Themba Hadebe, File)
JOHANNESBURG (AP) — A South African bakery apologized Tuesday for producing a line of cookies with bad taste messages relating to the upcoming trial of Oscar Pistorius, the double-amputee Olympian charged with murder in his girlfriend's shooting death.
Charly's Bakery did that on Twitter after South African media said the bakery posted photos of cookies decorated with images of Pistorius and messages such as "And the Oscar goes to ... jail," and one of a toilet door and a sign reading "Caution using toilet please don't shoot!"
Another cookie had an image of track athlete Pistorius in front of the logo of his former sponsor, Nike, and the words "Just do it. He did it," according to a picture published by South African newspaper The Citizen on its website.
Pistorius fired shots through a toilet door at his house that killed his girlfriend, Reeva Steenkamp, and will stand trial on a charge of murder. He says he killed Steenkamp by mistake and thought he was acting in self-defense fearing she was a dangerous intruder.
His trial starts Monday, and a judge ruled Tuesday that some parts of the court case could be broadcast live on TV, developments that dominated news headlines in South Africa.
The Citizen and other South African media published the photo of what they said were the Charly's Bakery cookies and said the bakery initially posted the photo on social media accompanied by the message: "Not sure if these are in good taste, but they sure taste good."
The images were reportedly deleted from the Charly's Bakery page, which then tweeted: "We messed up completely & we own our mistake. We apologize sincerely."
The bakery added on Twitter: "We seriously got it wrong with the ... cookies & we are hanging our collective heads in shame."
It also apologized to Steenkamp's family.