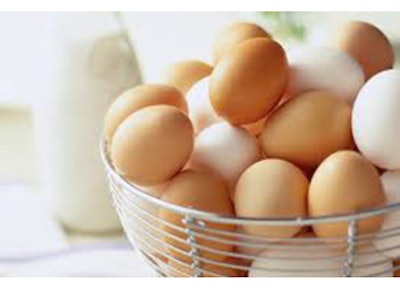 CEDAR KNOLLS, N.J. (PRNewswire) — Each year Men's Health recognizes the best packaged foods for men in their annual list of "Best Foods For Men" and once again, Eggland's Best has been honored. This year Eggland's Best Organic eggs have been awarded the title of "Best Eggs" in the Dairy category.
"We are again honored to be a part of Men's Health's list of Best Foods for Men," said Charlie Lanktree, President and CEO of Eggland's Best. "We strive to make the best egg in the world and are proud to see our efforts recognized again by Men's Health."
Eggland's Best's eggs are nutritionally superior to ordinary eggs and have 25 percent less saturated fat, double the omega-3 fatty acids, ten times more vitamin E, and four times more vitamin D. This is due to Eggland's Best's proprietary all-vegetarian diet that contains healthy grains, canola oil, and a wholesome supplement of rice bran, alfalfa, and sea kelp.
"Eggland's Best eggs are a staple in my family's refrigerator. Whether for breakfast, lunch or dinner, EB eggs pack the protein my sons need to stay energized throughout the day," said Fitness Hall of Fame Inductee Cathe Friedrich. "Along with tasting great and being a good source of protein, EB eggs also have higher levels of vitamin D compared to ordinary eggs, which helps preserve muscle strength and double the omega-3s, which helps with muscle recovery."
Eggland's Best eggs are available in Classic, Cage-Free, Organic, Hard-Cooked and Peeled and Liquid Egg White variety.
For more information on Eggland's Best eggs and for delicious recipes, please visit www.egglandsbest.com.
To view the full list of Men's Health 2014 Best Foods for Men, please visit http://www.menshealth.com/nutrition/best-foods-2014
About Eggland's Best Eggs
Eggland's Best (EB) is the No. 1 branded egg in the U.S. and is an excellent source of vitamins B2, B5 and Riboflavin. EB eggs have four times the Vitamin D, more than double the Omega-3, 10 times the Vitamin E and 25 percent less saturated fat than ordinary eggs. EB eggs also contain only 60 calories and stay fresher longer than ordinary eggs.
The distinctive "EB" stamp on the shell assures consumers and food service customers that the eggs meet the highest production standards. Eggland's Best has also been awarded Product of the Year in the egg category by Product of the Year USA. Eggland's Best hens are fed a strictly controlled, high-quality, all-vegetarian diet, which results in a better tasting, more nutritious and fresher egg. EB eggs are available in medium, large, extra-large, jumbo, cage free, organic, hard-cooked and peeled, liquid egg whites, and are certified as Kosher. For more information, visit www.egglandsbest.com.