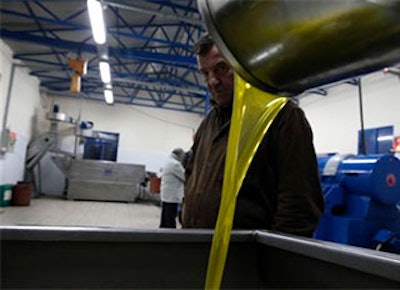 (AP) — A customer watches olive oil pouring out of a processing machine at a family-owned plant in Velanidi village, 320 kilometers (200 miles) west of Athens, Greece, on Thursday, Nov. 28, 2013.
Greece remains the highest consumer of olive oil per capita in the world despite the country's ongoing financial crisis. (AP Photo/Petros Giannakouris)
---
KALO PEDI, Greece (AP) — It was used to groom ancient Olympic athletes and remains a widely used modern staple in Greece's diet. But olive oil could be the latest victim of the country's grueling financial crisis.
The Organization of Economic Cooperation and Development is advising Greece to allow the sale of olive oil blended with cheaper vegetable oils to make it more affordable — part of a series of recommendations to boost competition and pull the country out of recession in 2014.
Greece is the world's third largest producer of olive oil and its leading consumer per capita, with a millennia-old tradition that still serves as a strong link between city dwellers and their rural ancestry.
But purchasing power has been devastated by a recession that started in 2008 and austerity measures imposed for a massive international bailout.
Financial crisis has wiped out more than a fifth of the Greek economy, and pushed unemployment up to more than 27 percent.