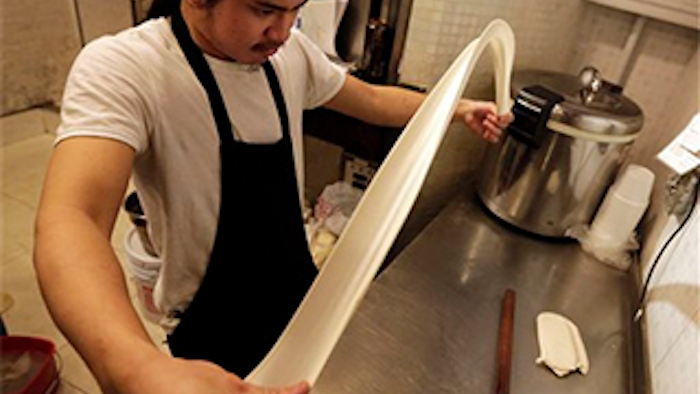 (AP) — This Dec. 5, 2013 photo shows Leo Cardona making noodles at Xi'an Famous Foods restaurant, near New York's Rockefeller Center.
Rockefeller Center is crowded at Christmastime thanks to the famous tree, the skating rink and the show at Radio City Music Hall, but visitors can choose from a variety of places to eat in the area, from ethnic food and street carts to sit-down dining. (AP Photo/Richard Drew)
---
NEW YORK (AP) — Plenty of people brave Rockefeller Center's holiday crowds to see the famous Christmas tree and take a spin on the ice. But nobody goes to Rock Center this time of year just for the food — unless they also crave long waits and overpriced menus designed for tourists.
Fortunately, Manhattan's food scene is dynamic enough that even amid the holiday madness, interesting dining options abound, from ethnic food to small plates to street carts, much of it reasonably priced. Waiting on line, though — well, there's no avoiding that. But at least you can get some good food. Here are some ideas, all within a few blocks of the tree.
Adventurous eaters should head straight to Xi'an Famous Foods. Anthony Bourdain discovered Xi'an back when the only locations were in Lower Manhattan's Chinatown and a mall in Queens, but the midtown Manhattan shop makes it possible to visit the tree and eat your noodles within the same hour. Just be warned, Xi'an is crazy-busy at lunchtime, with a line out the door of its tiny quarters even when it isn't Christmastime.
Spicy cumin lamb with Xi'an's signature long, hand-pulled broad noodles is a crowd favorite; you can watch the cooks stretching and twirling the noodles while you wait. Xi'an does not use the term "spicy" in jest, by the way: We're talking nose-running, lips-numbing spicy. It's also messy, greasy and yes, delicious. The large menu has mild dishes if you can't tolerate heat, along with ingredient options ranging from vegetarian to oxtail. There are only a few seats in the rear, so stake out a spot after you place your order if you don't want to your food to go.
Foodies will also feel right at home at Num Pang Sandwich Shop, which offers Cambodian sandwiches on baguettes, with rich, flavorful fillings like hoisin meatballs, coconut tiger shrimp or five-spice glazed pork belly. The sandwiches get their crunch from cucumber and pickled carrots; cilantro and chili mayo add to the complex flavors. The vibe is chill and hipster, with graffiti murals, electronic music and handwritten menus on blackboards. The long lines move fast and the informal seating area — with a bottle of Sriracha on every tabletop — accommodates the crowds.
Once upon a time, street food at Rock Center meant hot dogs and doughy hot pretzels, but it's the "halal" or Middle Eastern food vendors who are ubiquitous these days, with carts on every cross street west of Sixth Avenue (that's Avenue of the Americas for those of you who don't live here), across from Radio City Music Hall. The most popular halal stand with the longest line is at 53rd Street. Grilled chicken over yellow rice is a crowd favorite, or try falafel in pita with "everything on it" (tomatoes, onions, lettuce, tahini sauce, spicy red sauce, hot peppers and who knows what else). Some corners have other vendors selling everything from pirogis and schnitzel to meatballs and Korean barbecue.
If you don't object to chains — and bear in mind that mom-and-pop restaurateurs can't easily manage midtown rents — Fig & Olive offers a slightly upscale setting for tapas and small plates inspired by cuisines of coastal Spain, Italy and the south of France. Perfect for sharing: olives, cheeses, jamon (ham), beef carpaccio and crostini with delightful topping combos like eggplant, fig, tomato and basil. Heartier fare includes soups, pastas, paella and chicken tagine. Fig & Olive's dining room has an appealing, sophisticated vibe that attracts a lot of local business lunches.
For a quick sandwich, salad or pastry to go, folks who work in Rock Center swear by Bouchon Bakery, right across from the NBC Today show street-level studios. You can even see the tree through Bouchon's window while enjoying a chicken sandwich on pretzel baguette. For dessert, pick a mini-macaron ($2.50) from the colorful array of choices (pistachio is sublime).
Finally, just around the corner from the tree, Bill's Bar & Burger is a casual, friendly sit-down place with good fish tacos and award-winning burgers.
___
If You Go...
BILL'S BAR & BURGER: 16 W. 51st St., http://www.billsbarandburger.com/
BOUCHON BAKERY: 1 Rockefeller Plaza, http://bouchonbakery.com/
FIG & OLIVE: 10 E. 52nd St., Manhattan, http://www.figandolive.com/
HALAL CARTS: Along Sixth Avenue, from 48th to 53rd streets.
NUM PANG SANDWICH SHOP: 148 W. 48th St., http://timessquare.numpangnyc.com/
XI'AN FAMOUS FOODS: 24 W. 45th St., http://xianfoods.com/