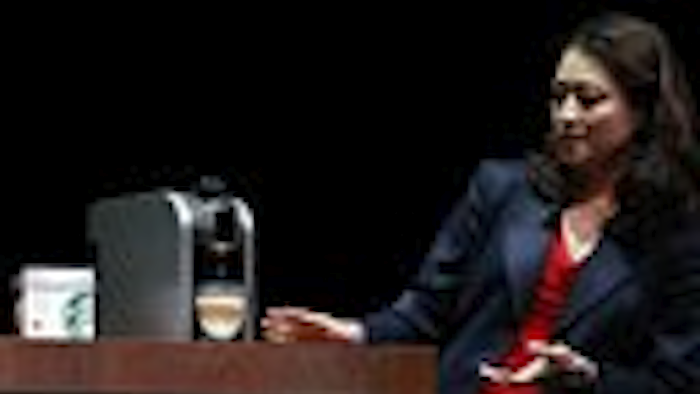 SEATTLE, Wash. (Business Wire) — At the end of 2011, just two months after the launch, Starbucks Coffee Company shipped more than 100 million K-Cup® packs and achieved a weighted All Commodity Volume (ACV) distribution across all channels of approximately 71 percent.*
"Thus far, we've reached 11 percent dollar share in the premium single cup segment with Starbucks® Coffee K-Cup® Packs," said Jeff Hansberry, president, Channel Development for Starbucks.** "Our focus with the initial launch has been on Keurig® Single Cup Brewer owners. Our next big opportunity will be to attract new customers to the category. We are confident the combination of the Starbucks Experience with the quality and value of Starbucks® Coffee K-Cup® Packs will ultimately make this a billion-dollar business over time."
The growth of the premium single cup coffee segment has been explosive over the last several years, up 138 percent year over year for the 52 weeks ended January 1, 2012. Starbucks VIA® Ready Brew contributed to this growth with system-wide sales of $250 million in 2011.
"Starbucks wants to deliver great tasting, high quality coffee to customers when they want it, where they want it, and how they want it," added Hansberry. "Starbucks will continue to innovate in this flourishing segment of the premium coffee market in an effort to fulfill customer demand."
On January 10, 2012, Starbucks officially launched Starbucks® Blonde Roast coffees Starbucks® Willow Blend™ and Starbucks Veranda Blend™, the latter of which is available in Starbucks® Coffee K-Cup® Packs, further fueling growth of this market segment for Starbucks.
"We know that more than 40 percent of consumers prefer a lighter roast coffee, and a majority of coffee sales in grocery are in the medium and light roast categories," said Hansberry. "With the availability of a Starbucks® Blonde Roasted coffee in the K-Cup® pack format, we are confident we will capture a new contingent of premium single cup consumers – those who seek the quality and character of Starbucks® coffee, but prefer a milder taste profile."
Starbucks® Coffee K-Cup® Packs for use in Keurig® Single Cup Brewers are available at food, drug, mass, club and specialty retailers throughout the U.S., as well as online at www.starbucksstore.com. Starbucks® Coffee K-Cup® Packs will be available in Starbucks retail stores nationwide beginning this fall.