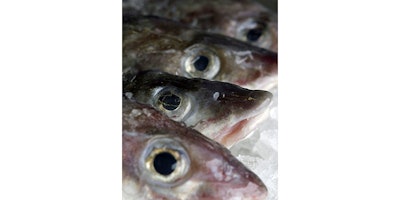 ROCKPORT, Maine (AP) — The cod isn't so sacred in New England anymore.
The fish-and-chips staple was once a critical piece of New England's fishing industry, but catch is plummeting to all-time lows in the region. The decline of the fishery has made the U.S. reliant on foreign cod, and cod fish fillets and steaks purchased in American supermarkets and restaurants are now typically caught by Norway, Russia or Iceland in the north Atlantic.
In Maine, which is home to the country's second-largest Atlantic cod fishery, the dwindling catch has many wondering if cod fishing is a thing of the past.
"It's going to be more and more difficult for people to make this work," said Maggie Raymond, executive director of the Associated Fisheries of Maine.
State records say 2016 was historically bad for cod fishing in Maine. Fishermen brought less than 170,000 pounds (77,110 kilograms) of the fish to land in the state last year.
The haul was below the previous record low of about 250,000 pounds (113,398 kilograms) a year earlier. Maine's record year for cod was 1991, when fishermen brought more than 21 million pounds (9.5 million kilograms) of the bottom dweller to the docks, according to records that date to 1950.
The Sacred Cod is the nickname of a wood carving of the fish that hangs in the Massachusetts State House. That state remains the center of the nation's Atlantic cod fishery, but the business is in jeopardy there, too. Catch fell from nearly 100 million pounds (45.3 million kilograms) in 1980 to less than 3 million (1.36 million kilograms) in 2015.
The catch of cod in Maine, and elsewhere in New England, has fallen in the face of increasingly meager quotas allowed by the federal government. The government's catch limit in the Gulf of Maine has fallen from more than 18 million pounds (8.2 million kilograms) in 2011 to about a million pounds (453,592 kilograms) last year.
New Hampshire fishermen brought more than 2 million pounds (90,718 kilograms) of cod to land in 1997. That dropped to 44,701 pounds (20,276 kilograms) in 2015. Rhode Island's total dropped from 474,908 pounds (215,414 kilograms) to 138,891 pounds (63,000 kilograms) from 1997 to 2015.
The National Oceanic and Atmospheric Administration released an assessment of the Gulf of Maine cod stock in 2014 that said the spawning population was at its lowest point in the history of the study of the fish. Scientists have cited years of overfishing and inhospitable environmental conditions as possible reasons for the decline.
A new assessment is taking place this year, said Jamie Cournane, groundfish plan coordinator for the New England Fishery Management Council, which regulates fisheries under NOAA.
Cod are considered groundfish, which are fish that live near the ocean bottom. Several types of groundfish, including haddock, sole and halibut, have high economic value. The low quotas for cod are problematic for New England fishermen because they must also stop fishing for other valuable species once they reach their cod limit.
U.S. fishermen primarily fish for cod in the Gulf of Maine and Georges Bank, which are major fishing areas off of New England. Georges Bank has also seen steep cod quota cuts in recent years.
"We did not see any positive news for recruitment, which led to those reductions that industry is facing right now," Cournane said.