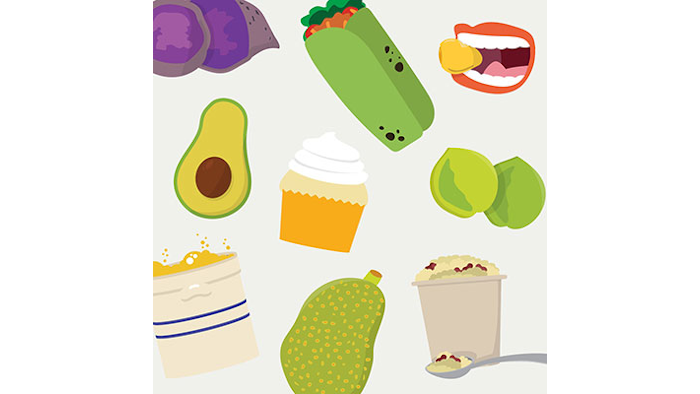 BOULDER, Colo. (PRNewswire) — Sterling-Rice Group (SRG) has identified the top nine natural and organic food trends that illustrate the consumers' continued commitment to making natural and organic products a central part of daily life. The brand-building firm is a leader on trends in the food industry—in part due to its extensive work in consumer insights, health and wellness, and all things culinary around the world.
As consumers continue to seek food options with maximum nutrition as well as an authentic connection with the food they eat, look for these trends to inspire menus and mainstream packaged goods in coming months:
Shape-Shifting Jackfruit: Boasting plenty of fiber and a meaty texture, this fruit is the meat alternative du jour. Look for it prepared in savory sauces for tacos, sandwiches, and wraps.
Must. Have. Avo.: Taking the avocado craze to the next level, the green fruit-obsessed don't have to wait for ripening and can now get their avocado toast fix on the go with convenient formats like portable dips, mini meals, and salad dressings.
Purple Potato Blues: Boost your spirits and your antioxidants with heirloom purple potatoes and Peruvian purple maize. Showing up in products from breakfast cereal to crunchy chips, these purple beauties are taking the aisles in a colorful direction.
Meal Cups 24/7: The cup of ramen grows up. With a new look and contemporary flavors, today's meal cups are packing a nutritional punch and catering to our need for instant and wholesome mini meals – day or night.
Better Baking: As demand for delicious products made with better ingredients rises, consumers will see a slew of new baking products lining the shelves such as organic, natural, non-GMO, and Fair Trade Certified cake mixes, frostings, and food colorings.
Fomenting Ferment: This year, consumer interest in fermented, probiotic-rich foods expands beyond yogurt and kombucha. Now food companies are making it easier for consumers to add more cultured products with easy-to-use starter kits and new flavor profiles.
The Secret Side of Chickpeas: Think you know chickpeas? Think again. Packed with protein, these fresh and vibrantly green chickpeas are the base of new convenience meals and hummus dips and even vegan mayo.
A New Chew: In 2016, snacking will offer consumers a unique and exciting textural experience. From sun-ripened olives coated in crunch to toothsome and moist lupini beans, look for more snack options with a brand-new bite and sophisticated flavors.
Wrapping Against the Grain: No grain? No problem. With a new crop of tasty and flexible grain-free wraps made from almonds, coconuts, cassava, and even vegetables popping up for grain avoiders and allergy sufferers, it's a wrap.
SRG's Natural Nine is assembled by the SRG Culinary Team, led by its Culinary Trendologist Kara Nielsen, after year-long explorations tracking new product introductions at a variety of food industry tradeshows, monitoring growing consumer interests, and following general health and wellness trends in U.S. society.
For a complete look at the Natural Nine: 2016 Natural Food Trends, visit: https://www.srg.com/attachments/2016_Natural_and_Organic_Trends.pdf
About Sterling-Rice Group
Headquartered in Boulder, Colorado, Sterling‐Rice Group (SRG) is a global leader in integrated brand strategy, innovation, and communications. SRG creates, activates, and elevates living well brands - those that make people's lives happier and healthier. SRG brings a unique perspective to the food industry, working with both fast-growth natural food brands as well as numerous leading consumer packaged goods companies. SRG also represents many other notable product and service firms in foodservice, retail, consumer hard goods and durables, hospitality, and healthcare. SRG has been recognized by Outside Magazine as a "Best Place to Work" for the last five years; a tribute to its work and the internal culture of the company.