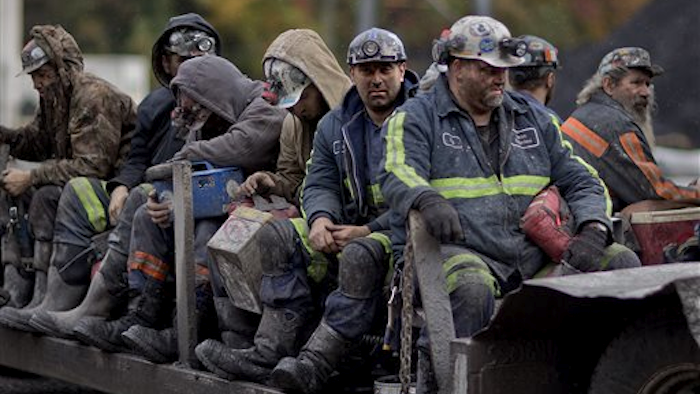 HENDERSON, Ky. — Two large underground coal mines in western Kentucky will be idled, putting about 670 miners out of   work.
Patriot Coal Corp. is halting operations at its Highland No. 9 mine and Dodge Hill No. 1 mine in Union County. The mines em
ploy about 670 workers and produced about 3.9 million tons of thermal coal last year, The Gleaner in Henderson reported.
Patriot spokeswoman Janine Orf said in an email message Sunday that "these actions are a result of the difficult coal markets." Sales volumes were lower last year at the Highland mine, according to the company's annual report.
The company's Heritage preparation plant near Waverly and the barge loading terminal on the Ohio River at Uniontown are expected to continue processing and shipping coal from on-site stockpiles.
Miners began receiving phone calls Sunday advising them to not report to work.
"It's terrible news," Henderson County Judge-executive Hugh McCormick said. "It's heartbreaking for the families."
"Right here, right after Christmas," said Union County Judge-executive Jody Jenkins. This affects "a lot of people from Union County and Henderson County and Webster County and Southern Illinois. It will ripple for quite some time with banks and car payments."
Hints that a shutdown was imminent came earlier this month, when Patriot Coal issued a notice required by federal law that said a major layoff or shutdown could come within 60 days.
In the weeks since that notice, miners and officials have been wondering whether a shutdown could be a precursor to a sale of one or both mines, or a mine opening that results in a new, non-union mining operation. The 400 hourly workers at the Highland Mine are currently represented by the United Mine Workers of America.
St. Louis-based Patriot Coal emerged from Chapter 11 federal bankruptcy reorganization one year ago, but its shares have yet to return to trading a major exchange such as the New York Stock Exchange or Nasdaq.
Earlier this year, a structural breakdown at the Heritage coal prep plant near Waverly resulted in the temporary halt of production at the Highland Mine in May and June. And on Dec. 16, a miner died at Highland when he was struck by a motorized coal-hauling machine.
In April and September this year, Patriot announced plans to idle mining operations in West Virginia.