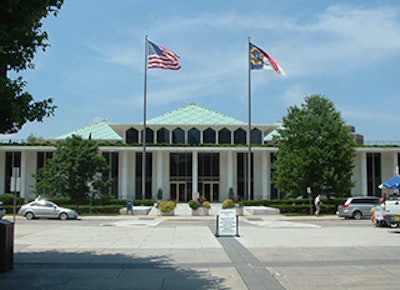 RALEIGH, N.C. (AP) — A bill that would make it a crime to publicly disclose the secret chemical mixtures that energy companies pump into the ground when fracking for natural gas is headed for a vote before the North Carolina Senate.
A pair of legislative committees on Tuesday quickly approved the bill, which could go to the full Senate floor as soon as Wednesday. The legislation aims to allow drilling to begin in the state next year, even if final rules and procedures are not yet in place.
Democrats and environmental groups accused Republican leaders of trying to fast track the legislation before opposition can build. The bill's GOP backers said the issue has already been debated for years and that a state commission appointed in 2012 has already produced about 120 draft rules.
"It's time to fish or cut bait," said Sen. Buck Newton, R-Wilson, one of the legislation's primary sponsors. "Are we going to talk it to death, or get into the business?"
Fracking, or hydraulic fracturing, is used by the energy industry to extract oil and gas from rock by injecting high-pressure mixtures of water, sand or gravel and chemicals. North Carolina is believed to have natural gas reserves locked in layers of shale under Chatham, Lee and Moore counties.
Environmental groups worry that potentially hazardous chemicals could contaminate groundwater and wells serving nearby homes and farms. Industry representatives have long argued that disclosing the chemicals would reveal trade secrets.
The proposed legislation would require energy companies to submit a list of the chemicals in use to the state geologist, who would keep it locked away in case of an accident or emergency. The legislation exempts those lists from disclosure as public records.
Unauthorized disclosure of the chemicals would be a felony, punishable by either community service or up to a year in prison, depending on whether the offender has a prior criminal record.
Derb Carter, North Carolina director for the Southern Environmental Law Center, said the threat of sending someone to jail for what should be a civil issue is intended to protect polluters and keep neighbors in the dark.
"The crime should be allowing corporations to pump toxic chemicals underground without public disclosure of those chemicals," Carter said.
The bill would also bar local elected officials from enacting their own ordinance on where and how drilling can occur beyond the state requirements.
Drillers would be prohibited from injecting their contaminated waste water back into the ground. Groundwater within a half-mile of the drilling site would have to be monitored.
A study would also be launched to explore the possibility of building liquefied natural gas terminals at state ports for potential export overseas.
If approved by the Senate, the measure will go to the GOP-dominated House before heading to the desk of Gov. Pat McCrory, a Republican and former Duke Energy executive who is a staunch supporter of the oil and gas industry.
The bill's supporters said Tuesday the gas drilling will create jobs and provide a cheap and reliable source of energy.
Sen. Tommy Tucker, R-Union, brought up the ongoing debate about what to do with the toxic ash created by Duke's old coal-burning power plants and suggested gas offers a more-environmentally sound alternative that could reduce electricity bills.
"It's North Carolina, homegrown energy," said Tucker, who said he had worked in the gas industry. "It's clean burning, and you're going to have a rate reduction based on the fact you're not using coal or coal ash anymore."