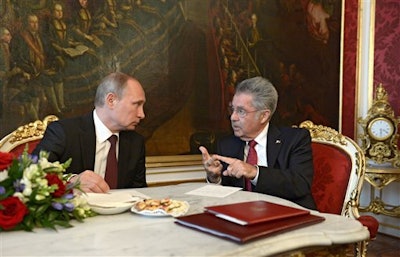 VIENNA (AP) — The U.S. is trying to derail a project to build a gas pipeline that bypasses Ukraine to supply Europe, Russian President Vladimir Putin said Tuesday after Russian and Austrian energy firms agreed to build the pipeline's western end.
Austria's OMV and Russia's Gazprom signed a contract for the construction of the pipeline's Austrian section hours before Putin arrived on his second trip to the West since tensions spiraled over Russia's actions in Ukraine, a crisis that has prompted calls for Europe to lessen its reliance on Russian gas.
OMV general director Gerhard Roiss said the South Stream pipeline will "ensure energy security for Europe, particularly for Austria." Austrian President Heinz Fischer, who met with Putin, noted that large sections of the pipeline will cross NATO and European Union members Bulgaria and Hungary.
"No one can tell me why ... a gas pipeline that crosses NATO and EU states can't touch 50 kilometers (31 miles) of Austrian territory," he said.
Asked about American criticism of the pipeline, which is expected to start running in late 2016, Putin said that "our American friends ... want to supply Europe with gas themselves."
"They do everything to derail this contract. There is nothing unusual about it. It's competition, and political means are used in this competition," he said.
Bulgaria this month froze work on its section of the pipeline on orders from the EU Commission, which said Bulgaria hadn't respected rules on awarding public contracts. The Commission has also delayed some political talks on the pipeline amid the crisis in Ukraine.
Austria is a member of the EU, which along with the U.S. has imposed visa bans and asset freezes on a number of Russian officials.
The U.S. Embassy in Vienna said earlier Tuesday that trans-Atlantic unity has been essential to "discouraging further Russian aggression" and that the Austrians "should consider carefully whether today's events contribute to that effort."