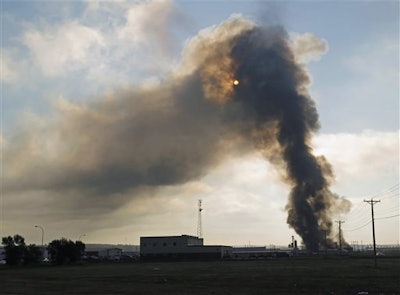 WILLISTON, N.D. (AP) — Air quality tests at the site of an industrial fire in Williston showed levels "that would not raise concern," North Dakota Department of Health Air Quality Division director Terry O'Clair said Wednesday.
The Environmental Protection Agency and the state agency conducted tests Tuesday night at Red River Supply, where a massive fire burned much of Tuesday. The Health Department's permanent monitoring system in Williston also didn't record problematic levels of contamination.
"Results were coming in at levels that were not of concern," O'Clair said of the tests, the results of which he received Wednesday morning.
Officials still have not said what started the blaze about midnight Monday at the oil supply company, where several flammable chemicals were stored, according to state records. Williston Fire Chief Jason Catrambone said on Tuesday officials still do not know which specific chemicals had burned at the site.
The blaze is now mostly extinguished, but the fire at its peak sent fireballs shooting hundreds of feet into the air. No injuries were reported.
Authorities were mostly worried about the plume of smoke created by the fire. O'Clair said health department workers reported a smoky smell downwind.
"Our primary concern was the particulate level, because contaminants can get on the carbon that is being emitted," O'Clair said. Particulate matter is the solid particles and liquid droplets in air that can be dangerous to health when inhaled.
The highest recorded particulate level at the fire site Tuesday night was 149 parts per million, O'Clair said. The Health Department's permanent monitoring system near downtown Williston recorded 55 parts per million, well below the EPA 24-hour standard of 150 parts per million, O'Clair said.
Officials had urged people who lived within a half-mile area of the fire to leave, and some roads had been closed.
"Some people did leave on their own — they had friends or family outside that area," Williams County Emergency Services spokeswoman Lorrie Wilson said Wednesday. "But most people just sheltered in place."
The smoke also prompted the Federal Aviation Administration to issue a six-hour temporary flight restriction Tuesday for Williston's Sloulin Field International Airport, airport manager Steven Kjergaard said.
Red River Supply issued a brief statement late Tuesday thanking emergency responders and saying the cause of the fire hadn't been determined. The company's website says it provides storage, blending and delivery of drilling fluids, among other things.