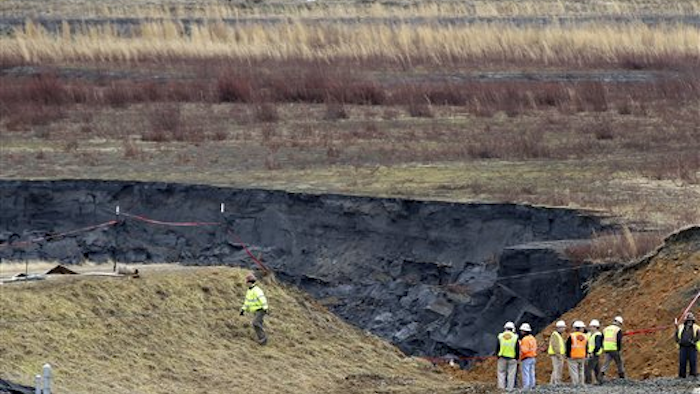 RALEIGH, N.C. (AP) — The North Carolina Senate gave preliminary approval Tuesday to legislation ordering Duke Energy to close all of its coal ash dumps in the state by 2029.
The unanimous vote came about four months after a massive spill from a Duke plant in Eden coated 70 miles of the Dan River in toxic gray sludge. The measure backed by Senate Leader Phil Berger, R-Rockingham, and Senate Rules Chairman Tom Apodaca, R-Henderson, requires Duke to place ash from dumps at four of its plants into lined landfills or sell it for reuse by the construction industry within five years.
A new coal ash commission and state environmental regulators would decide whether the millions of tons of ash at 10 remaining plants would also be removed or whether it could be capped and left in place. The bill also requires Duke to monitor groundwater around the landfills for 30 years.
"I think it is a change that is going to have North Carolina leading the country ... when it comes to getting rid of coal ash," said Apodaca, whose home district near Asheville contains Duke dumps state regulators say are contaminating groundwater.
Senate Democrats voted for the Republican-backed bill, even though they criticized it as being too weak. Apodaca blocked a vote on a Democratic amendment that would have barred Duke from seeking an increase in electricity rates to pay for the cleanup.
"This is not a perfect bill," said Sen. Mike Woodard, D-Durham, as he asked his colleagues to vote in favor. "I'm not going to let the perfect stand in the way of the good."
The bill faces another Senate vote Wednesday before heading to the state House. If approved there, it will go to the desk of Gov. Pat McCrory, a Republican who retired after working at Duke Energy for 29 years.
McCrory backed an earlier version of the bill that would have given more discretion to his administration's environmental agency to determine how Duke would be required to clean up its coal ash dumps and how quickly. Last week, a lobbyist for Duke told lawmakers the company is opposed to the firm timelines included in the current legislation.
In an interview Monday, McCrory also expressed concerns about the Senate's plan to create a new commission to oversee the process, with legislative leaders appointing the majority of the board's nine members.
"I think coal ash is going in the right direction, except we do have some issues regarding the makeup of the commission because of separation of powers issues ... regarding how the commission is appointed and what the responsibilities of the commission are," McCrory said.
McCrory did not say whether he would sign the bill in its current form. He could also veto the legislation, or allow it to become law without his signature.
During debate Tuesday, Democrats questioned why the bill only explicitly requires the removal of ash from four Duke plants — Dan River, Asheville, Sutton and Riverbend. Republicans voted down amendments that would have added some of Duke's other 10 plants to the priority list, including Buck Steam Station in Salisbury.
The Associated Press reported last week that tests from Duke's own monitoring wells at the Buck plant repeatedly showed readings for levels of potentially harmful chemicals exceeding state groundwater standards. Some of those same chemicals have shown up in tests of well water from nearby homes. Duke says the underground contamination could be naturally occurring and that residents near its plant are in no danger.
Environmental groups on Tuesday criticized provisions in the Senate bill that could potentially allow Duke to leave the majority of its ash in the company's unlined pits, as long as they are drained and caped with giant plastic tarps and a layer of soil. The groups also pointed to a provision that after the expiration of a one-year moratorium would allow Duke to dispose of up to 100,000 cubic yards of toxic ash — enough to fill more than 50 Olympic-sized pools — into unlined structural fill projects such as those used to level land for new highways.
"Placing a tarp over the ash and filling in the pit with dirt is not an adequate cleanup plan," said Peter Harrison, a staff attorney for environmental group Waterkeeper Alliance. "As we've seen at the Buck Steam Station, ash in unlined lagoons could be putting people's drinking water at risk."