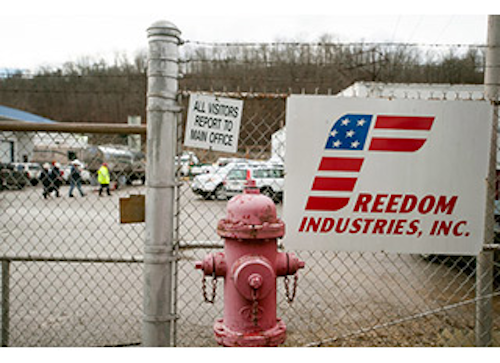 CHARLESTON, W.Va. (AP) — The company at the center of West Virginia's chemical spill paid about $6 million to executives and associated companies in the year before filing for bankruptcy.
Freedom Industries sent $1.1 million of that pot to three former company owners -- Charles Herzing, Dennis Farrell and William Tis. They received most of the money before leaving top positions in a Dec. 6 merger deal worth $15 million. Farrell is still with the company in a sales role.
If some of the company's payments to officers and closely tied companies are deemed out of line, they could be clawed back under bankruptcy law. The money would end up in a pool of Freedom Industries assets available to pay back hundreds of creditors.
Many restaurants and businesses are among the group in line for compensation from Freedom Industries. They were shuttered for days during a water-use ban after the company leaked coal-cleaning agents into the Elk River, and dozens are suing Freedom Industries over lost profits. But the company's bankruptcy proceedings temporarily froze their lawsuits.
An official committee of unsecured creditors is already combing through payments for possible impropriety, said Charleston attorney Anthony Majestro, who represents a creditor on the committee.
The creditors will get the chance to question Freedom Industries representatives under oath at a Tuesday bankruptcy hearing in Charleston. West Virginia American Water, whose water supply was tainted, claims it's the biggest of the group.
"Parties suing to get recovery would naturally want to capture any source of payment," said Robert Simons, a Pittsburgh bankruptcy lawyer not involved in the case.
Attorneys for Freedom Industries said they could not comment because of ongoing court proceedings. The company has spent $150,000 on bankruptcy counselors and lawyers so far, court documents show.
Simons said creditors will want to know if the payments made the company insolvent or happened while it was insolvent, or if insiders provided legitimate services for the money.
But the Freedom Industries case is unusual, Simons said, because it wasn't a normal, gradual decline into bankruptcy. One event, the chemical spill, changed everything.
The 51-employee company's gross income rose from $25.7 million in 2012 to $30.7 million in 2012-13. About halfway through the current fiscal year, it had already grossed $19.7 million. The company has $16.1 million in assets and $6.8 million in liabilities, according to court records filed Monday.
A month after Pittsburgh coal executive J. Clifford Forrest acquired the company, one of its Charleston tanks leaked chemicals into a river providing drinking water for 300,000 people. The company spiraled into bankruptcy by Jan. 17, while some citizens still weren't allowed to cook with, bathe in or drink their tap water.
The ban lasted four to 10 days. Many residents still won't trust their taps, however, and are sticking to bottled water.
The company also secured up to $4 million in credit from a lender to cover costs; mainly, to keep paying for cleanup at its chemical-laden grounds in Charleston. The company also must start tearing down the plant and its tanks by March 15 under state orders.
Freedom paid some connected companies, like Enviromine Inc. and Blackwater LLC, millions of dollars over the last year. Enviromine is run by Freedom Industries President Gary Southern, according to West Virginia records, and received $3.8 million from Freedom Industries in the last year.
Freedom Industries' insider payments are described as consulting, goods and services, expenses and distributions in court documents.
Before the creditors meet Tuesday, Freedom Industries will return to the Charleston courtroom for a 10 a.m. hearing Friday. The company wants to hire more lawyers, advisers and experts and environmental consultants to assess the circumstances surrounding its Jan. 9 spill.
Freedom wanted to expedite the hearing before evidence is removed or destroyed, since it has less than a month to start dismantling its location on the Elk River.