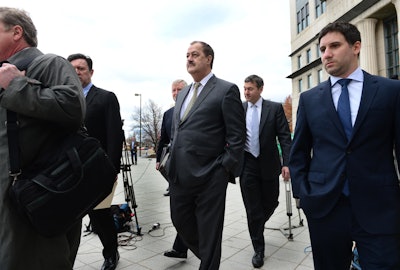 CHARLESTON, W.Va. (AP) — Former Massey Energy CEO Don Blankenship was convicted Thursday of a misdemeanor count connected to a deadly coal mine explosion and acquitted of more serious charges.
A federal jury in West Virginia convicted Blankenship of conspiring to willfully violate mine safety standards. The misdemeanor charge carries up to one year in prison. Jurors did not find Blankenship guilty of a more serious conspiracy charge included in the same count that could have netted five years in prison. He was also acquitted of making false statements and securities fraud.
Blankenship was charged with conspiring to break safety laws and defrauding mine regulators at West Virginia's Upper Big Branch Mine, and lying to financial regulators and investors about safety. The mine exploded in 2010, killing 29 men.
At a news conference following the verdict, U.S. Attorney Booth Goodwin called it a "landmark day for the safety of coal miners," adding that it's the first time he is aware of a chief executive of a major corporation being convicted of a workplace safety crime.
Goodwin said he wasn't disappointed that Blankenship wasn't convicted on the other stiffer charges.
"This is, to my knowledge, unprecedented," Goodwin said. "And in this case, it is long overdue. The defendant endangered the safety of his workers for years by ignoring the laws that were intended to keep them safe."
Defense attorney William Taylor said Blankenship plans to appeal.
"We are disappointed, but not as disappointed as we could have been. The case should have never been brought," Taylor said.
Judy Jones Petersen, whose brother Dean Jones died in the Upper Big Branch explosion, said she felt vindicated by the verdict and directed a scathing comment at Blankenship: "Although you may not be judged responsible by the courts of this land, you are guilty. The blood of these 29 people is on your hands."
Asked for a comment after the trial, Blankenship just winked. Only a wink, he was asked?
"Just a wink. A wink and a nod," he said, citing a phrase used by the defense to debunk the conspiracy notion. Then he laughed.
Pam Napper, whose son, Josh Napper, was among the miners who died, said she wasn't disappointed in the verdict.
"I'm just very hurt," she said by telephone. "To think that that man could still walk the streets and keep that smile on his face knowing what he did to my son. He was only 25."
U.S. Sen. Joe Manchin, who was West Virginia's governor at the time of the explosion, said the jury's decision "has brought some measure of justice to one of the most tragic mining disasters in recent history."
He added, "While nothing can ever bring back the 29 beloved souls who we lost on that tragic day, I hope that today brings some closure and peace to the families of the miners."
Labor groups heralded the conviction as a strong message for corporate CEOs.
"A message has gone out today to every coal operator in America who is willing to skirt mine safety and health laws: You do so at your own personal risk," said Cecil Roberts, president of the United Mine Workers of America. Blankenship battled the miners union while heading Massey.
The conviction caps a wide-spanning investigation into Massey following the explosion. Four others were convicted up the Massey corporate chain, leading to Blankenship.
During the trial, which began Oct. 1, prosecutors called Blankenship a bullish micromanager who knew about and meddled in the smallest details of Upper Big Branch. They said Massey's safety programs were just a facade — never backed by more money to hire additional miners or take more time on safety tasks.
And prosecutors consistently reminded jurors that a conspiracy need not be spelled out formally between parties.
Blankenship's defense made a rare, risky move by not calling a single witness in the case. His attorneys said there was no evidence Blankenship was involved in a conspiracy.
Prosecutors made their case using phone calls Blankenship secretly recorded in his Massey office.
In key calls, Blankenship said a scathing internal safety memo should be kept highly confidential, and that it would be a terrible document to show up in legal discovery if there was a mine fatality.
Under defense cross-examination, Christopher Blanchard — who ran the subsidiary that oversaw Upper Big Branch — said Blankenship and Massey pushed for safety.
Testifying to prosecutors, Blanchard said he believed Blankenship thought it was less expensive to pay fines than pay for measures to prevent safety violations. He also said most Upper Big Branch violations could have been prevented by hiring more miners or spending more time on safety tasks.