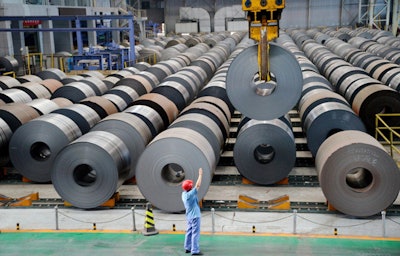 Federal authorities officially seized hundreds of shipping containers as part of an investigation into alleged efforts by a Chinese aluminum magnate to avoid U.S. tariffs.

The Wall Street Journal reported that U.S. Customs officials originally detained the containers — which hold aluminum shipments worth some $25 million — from a California company in September, and that the Department of Homeland Security recently took possession of them.

The containers will be moved from the Port of Long Beach to an undisclosed location for evaluation and laboratory testing.

The company that owned the aluminum, Perfectus Aluminum Inc., is one of several linked to Liu Zhongtian, the billionaire founder of aluminum giant China Zhongwang.
In October, the paper reported that Homeland Security and the Justice Department were looking into allegations of smuggling, conspiracy and wire fraud by Liu-connected companies, and in December, the Commerce Department found that Zhongwang evaded high U.S. tariffs on Chinese-made aluminum by routing shipments through other countries, including Mexico and Vietnam.
Commerce officials also looked into a New Jersey metals company that allegedly housed aluminum pallets from China in order to melt them down for others uses.
The tariffs were imposed after the Commerce Department determined that Zhongwang improperly dumped subsidized metal on the U.S. market in 2010. Zhongwang maintained that the 2010 ruling did not apply to its recent exports to the U.S., and a company spokeswoman said neither Zhongwang nor Liu were affiliated with Perfectus.

The Journal, however, noted that Perfectus was founded by Liu's son and that is currently helmed by close associate Jacky Cheung.

Perfectus, meanwhile, denied allegations that it illegally stocked aluminum or failed to pay appropriate duties. The company asked a federal judge to direct the Department of Homeland Security to release the aluminum in question.