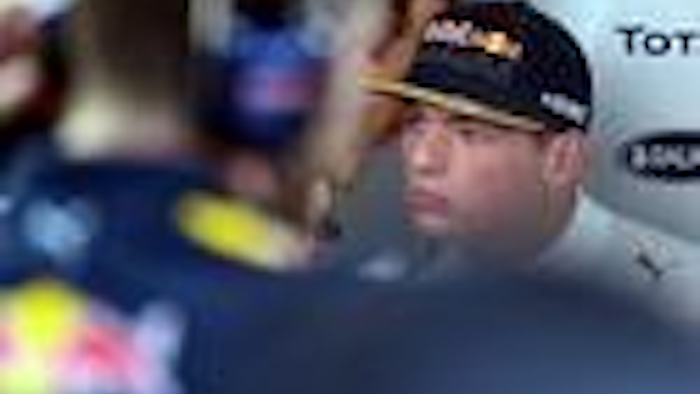 FRANCORCHAMPS, Belgium (AP) — Max Verstappen posted the fastest time in the second practice for the Belgian Grand Prix on Friday, while another engine penalty ensured Lewis Hamilton will start Sunday's race from the back row.
Hamilton took a 15-place grid penalty in the morning session for having changed too many engine parts, and took another 15-place hit following another component change for the afternoon.
Given the inevitable situation, Mercedes could take the opportunity to make further changes on his engine ahead of qualifying.
Hamilton won't be the only illustrious name at the back of the class, with two-time Formula One champion Fernando Alonso handed a 35-place grid penalty for multiple component changes following a water leak in first practice.
Who starts last will be decided by Saturday's qualifying.
Hamilton and Mercedes teammate Nico Rosberg were slower during the afternoon session because they ran on harder medium tires, getting an indication of their durability should they be the main tire on Sunday, which would be so if the scorching weather continues.
The Spa track, nestled in the Ardennes forest, is ordinarily known for its rather cool climate.
Not this year.
Temperatures hit 35 degrees (95 F) in the afternoon, having already reached 25 (77) for the first practice at 10 a.m.
The afternoon sun seemed to get to the 18-year-old Verstappen, who was unhappy with Finnish veteran Kimi Raikkonen — twice his age.
"What is he doing? It's dangerous," Verstappen lamented over race radio. "I'm riding over 300 kph and he's blocking me."
In the morning session, Rosberg was fastest ahead of Hamilton, who has won six of the past seven races and leads Rosberg by 19 points with eight races remaining after this one.
But his penalty means Rosberg has a good chance to even things out.
Although practice lacked excitement, it was important for testing as drivers were given two extra sets of Pirelli tires, while some wore a protective halo device.
Pirelli, the Italian manufacturer, is testing tires to try and add more protection for drivers from impacts with kerbs and track debris.
This follows Sebastian Vettel's rant when his tire blew during last year's race.
Strong heat increases tire wear, meaning teams have to choose wisely in practice and qualifying in order to preserve tires for Sunday.
This could prove troublesome for Ferrari because Vettel and Raikkonen have brought only one set of medium tires each to Spa.
The unexpected glorious weather saw fans arriving in droves, including a large group of Dutch to cheer on Verstappen, tipped as F1's next big star and the youngest driver to win a race.
Organizers said 20,000 tickets were sold to Dutch fans. But Verstappen is also attracting interest from local fans because his mother is Belgian.
"This is the closest I can get to a home race," said Verstappen, whose father Jos competed in around 100 GPs, and was also popular with Belgian fans.
Thanks to the impact Verstappen has made since joining five races into the season — winning the Spanish GP on his Red Bull debut and securing three more podium finishes — Red Bull has overtaken Ferrari and sits second in the constructors' championship.
"Staying ahead of Ferrari is our target and our goal" team principal Christian Horner said. "There's a big push to carry the momentum into the last races. It's a busy time in the factory."
Mercedes has won every race so far except for Spain, but Hamilton's penalty gives Horner hope.
"They have issues to deal with this weekend with one of their cars, so that gives us further opportunities," Horner said.
During the first practice, Rosberg and Daniel Ricciardo tested out the latest halo device, which forms a protective structure around and above a driver's head.
The FIA is looking at ways to improve cockpit protection and limit the risk of head injuries, after French F1 driver Jules Bianchi died in July last year, and British IndyCar driver Justin Wilson died a month later.
A definitive model is not yet ready for next year.