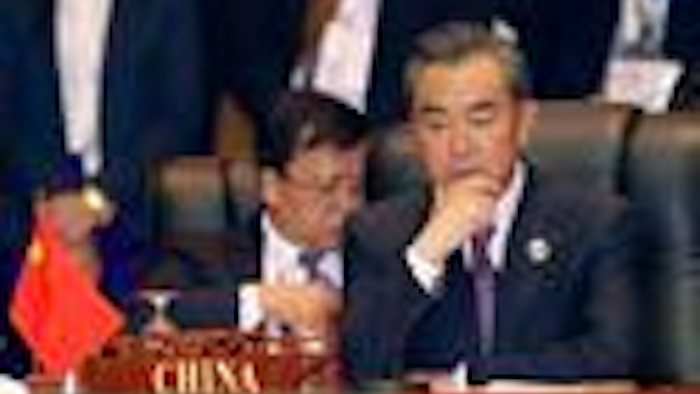 VIENTIANE, Laos (AP) — Daring to take on China in a territorial dispute in the South China Sea, the Philippines went to an international tribunal for justice, and won big. But it turned out to be a pyrrhic victory.
Beijing came back with such ferocity and manipulative diplomacy that other Southeast Asian countries that have similar disputes with it are apparently backing down.
One by one, their positions became clear at meetings this week of Asia-Pacific and Southeast Asian nations, a gathering that was supposed to unanimously call out China for a host of actions in the resource-rich South China Sea — building artificial islands and military airstrips, sending warships, staging live-firing exercises and shooing away fishermen from other countries.
And so, the four-day conclave in Vientiane, the Laotian capital, ended Tuesday with China's muscles bulging more than ever, and the vaunted unity of the 10-member Association of Southeast Asian Nations in disarray.
Philippine Foreign Secretary Perfecto Yasay Jr. sought to put a positive spin on the developments.
"Whether or not you will say that this is a triumph of China or a triumph of the Philippines, or a defeat of China or a defeat of the Philippines, the fact is clear," he told reporters in Manila on Wednesday. "This is a victory for ASEAN for upholding the very principles of international law and ... more importantly, pursuing our negotiations in the dispute in a peaceful manner."
"Be that as it may, the actual resolution of this dispute between China and the Philippines is a matter between China and the Philippines," he said, reflecting a position that suits China perfectly.
The first coup de grace China dealt was at ASEAN foreign ministers' meetings, where it successfully prevented a joint communique from mentioning the July 12 ruling by the Hague-based arbitration panel in favor of the Philippines. While the communique did express concerns about the tensions in the South China Sea, it did so without naming China.
A mill around the neck of ASEAN — Southeast Asia's main grouping — is that it can issue statements only when there is consensus among all 10 members. China leveraged that by ensuring that Cambodia and Laos would not provide that consensus. Both countries receive massive aid from China, which recently announced a $600 million package to Cambodia.
"As an association, ASEAN loses power and relevance when it punts on the most important regional issues," said John Ciorciari, a Southeast Asia expert at the University of Michigan. "Yet ASEAN operates by consensus, and when push comes to shove, national interests tend to trump regional solidarity."
"Aid has won China some close friends in Southeast Asia, and Cambodia in particular has been quite willing to cast vetoes on communique language inimical to Chinese interests," he said.
China does not accept the arbitration panel's ruling, and says all disputes should be settled bilaterally through negotiations. It did not participate in the panel's hearings and insists that almost all of the South China Sea, which is ringed by claimants China, Vietnam, Malaysia, Brunei, the Philippines and Taiwan, belongs to it historically.
It also accuses outside parties — the United States, Japan and Australia — of needling ASEAN countries and raising tensions. After ASEAN's failure to rebuke China, those three countries issued a joint statement in Vientiane saying they strongly oppose "any coercive unilateral actions that could alter the status quo and increase tensions."
China lashed out at them on Wednesday, with Foreign Minister Wang Yi saying in a statement that the three countries were "fanning the flames" of regional tension.
"Now it is the time to test whether you are peacekeepers or troublemakers," he said.
Diplomats who attended the Laos meetings said it was interesting to see that claimant countries appeared less enthusiastic than others in wanting to rebuke China. Even the Philippines was not too forceful in asking for strong language in the joint ASEAN statement. It repeatedly pointed out that the ruling by the arbitration panel was the result of its "unilateral" lawsuit, implying that ASEAN should not get involved.
Malaysia's foreign minister didn't even show up for the meetings. At a later meeting of ASEAN and Asia-Pacific nations, Brunei took pains to praise China's leadership, according to diplomats who attended the meeting.
And on Tuesday, Vietnam's deputy foreign minister, Le Hoai Trung, told The Associated Press that his country prefers bilateral dialogue with China, which Beijing wants.
The Philippines is in a tight spot because even though it went to the tribunal and won, that was under the previous government of Benigno Aquino III. President Rodrigo Duterte, Aquino's successor, has made friendly overtures to Beijing and is leaning toward bilateral negotiations.
But the bottom line is that the tribunal's decision, although legally binding, is non-enforceable. The arbitration panel didn't take a position on who owns the disputed territories, which include reefs and rocky outcroppings in the vast sea. It concluded only that many of them are legally rocks, even if they've been built into islands, and therefore do not include the international rights to develop the surrounding waters.
Now it is up to China to decide what concessions it wants to make, and how much pressure the smaller countries can take.
"At this point, it (the ruling) is not a magic stick ... it's not a solution to everything, but rather it needs to be combined with other measures," said Tran Viet Thai, deputy director of the Institute of Strategic Studies, a Vietnamese government think tank.
China is showing no signs of slowing down its efforts to exert control over the South China Sea.
State-run companies are joining forces to offer luxury cruises in the waters. Three companies dealing in shipping, tourism and construction will contribute to running as many as eight cruise liners by June 2017 to service a region through which an estimated $5 trillion in global trade passes each year. They're also building four docks, which will be able to handle 2 million passengers a year.
One of China's main cellphone carriers, China Telecommunications Corp., has extended 4G service to several disputed South China Sea islands. Its competitor China Mobile Communications Corp. already offers similar services.
Along with creating new islands by piling sand on top of coral reefs, China has built airstrips, harbors and lighthouses that is says will benefit fishermen and ship owners who transit the strategic waterway.
Clearly, China is not giving up the sea — tribunal or no tribunal — yet the ruling will continue to hang over it like a dagger.
"It's impossible for (the ruling) to be irrelevant," U.S. Secretary of State John Kerry told reporters in Manila, where he made a stop after the Laos meetings.
But "we are not trying to create a confrontation. We are trying to create a solution," he said.
___
Vijay Joshi is the AP's Southeast Asia news director. He has covered the region for 18 years.
___
Associated Press writer Jim Gomez in Manila, Philippines, contributed to this report.