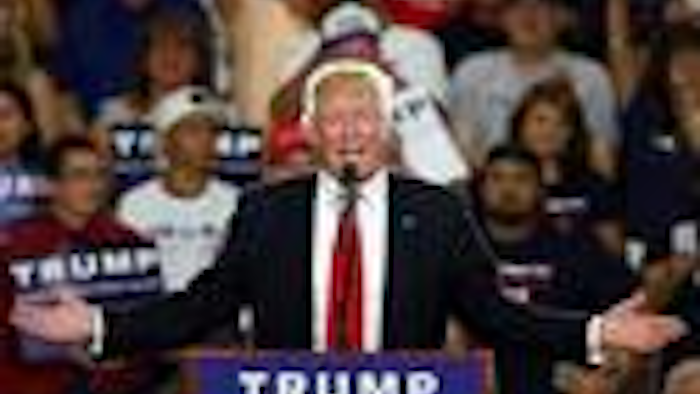 BISMARCK, N.D. (AP) — Republican presidential candidate Donald Trump will deliver his first policy speech on energy on Thursday, hours after locking up enough delegates to secure the GOP nomination.
Trump will be speaking at the annual Williston Basin Petroleum Conference in Bismarck, North Dakota, and is expected to lay out an "all of the above" approach with a renewed focus on domestic energy production and a call to loosen federal environmental regulations.
Speaking on Fox's "Hannity" last week, Trump said his speech would focus on U.S. energy independence.
"It's going to be everything," he said when asked whether his approach would include coal and hydraulic fracturing, a drilling process that involves injecting fluid at high pressure into shale rock.
"Mr. Trump will draw a contrast between Hillary Clinton's plan to eliminate millions of good-paying energy jobs -- including countless union jobs -- and Mr. Trump's plan to add millions of new jobs for America's workers," Trump senior policy adviser Stephen Miller said in a statement, referring to Trump's likely Democratic rival.
Rep. Kevin Cramer, R-N.D., who has been advising Trump on energy, told reporters Wednesday that he hadn't yet seen the speech, but expected Trump to speak generally about oil and gas as well as the links between energy and national security.
"I think it'll be pretty high-level. I don't think he'll drill down to specific policies," said Cramer, who is one of the most ardent drilling advocates in Congress and a climate change skeptic.
Trump is among many Republicans who reject mainstream climate science. He has called climate change a "con job" and a "hoax" and suggested that it is a Chinese plot "to make U.S. manufacturing non-competitive."
While Trump has supported some forms of renewable energy, he has sued to oppose wind turbine projects within view of his luxury resort properties and has cited East Coast winter snowstorms as evidence the world is actually cooling, despite the overwhelming consensus of scientists that the opposite is true. He has also threatened to renegotiate a global climate pact reached in Paris last year.
Despite his public bombast on climate, however, there is evidence Trump the businessman is moving to hedge his bets. Earlier this month, one of Trump's companies specifically cited sea level rise and increased storminess fueled by global warming in paperwork seeking permission to build a nearly two-mile-long stone wall to fortify the shoreline at one of his golf courses in Ireland. Environmental groups pounced on the application as evidence of Trump's hypocrisy.
And at an event in Iowa, one of the nation's top wind-farm states, Trump also offered grudging support for a federal tax credit for wind energy. While calling wind turbines "very, very expensive" to build and maintain, Trump said he is "OK" with subsidies. "I don't think they work without subsidy, which is a problem," he said. Trump also supports the corn-ethanol mandate, which is hugely popular in Iowa and other Midwest states.
Trump has also targeted the Environmental Protection Agency, calling its regulation overly aggressive. On the campaign trail, Trump has vowed to "get rid of" the EPA "in almost every form."
He and other Republicans warn that President Barack Obama's plan to curb greenhouse gas emission from U.S power plants could cost thousands of jobs and raise electricity costs for businesses and families. He has vowed to revive the coal industry in West Virginia and other states and has targeted Clinton's remark in March that, "We're going to put a lot of coal miners and coal companies out of business." Clinton has said she made "a misstatement" and has a plan to help displaced coal workers.
Trump said in West Virginia that if he's elected, "We're going to put the miners back to work."
Environmentalists were ready to pounce even before Trump delivered his remarks.
League of Conservation Voters spokesman Seth Stein said in a statement that "severely cutting the EPA and recommending ending their ability to regulate harmful pollution" would essentially give polluters "a free pass."
"Trump's already poor judgement is amplified by picking Cramer as his energy advisor, who is fully in line with the nominee's goal of denying the American people the benefits of the Clean Power Plan, threatening our economy and the health of our families, by eliminating clean air and water safeguards at the federal level," he said.
Jason Bordoff, the founding director of the Columbia Center on Global Energy Policy and a former senior adviser to the Obama administration, said he hoped Trump's remarks would reflect recognition of the complexity of the global energy system and the potential consequences of disruption.
"Disconnecting the U.S. from the global energy market would be very damaging and harmful to both U.S. consumers and U.S. producers," he said.
North Dakota is at the heart of America's oil boom and now is the second-largest oil producing state after Texas, thanks largely to huge reserves in the oil-rich Bakken region and advances in fracking and other drilling technology.
More than 7,000 people are slated to hear Trump speak at the event.
__
Associated Press writers Michael Biesecker, Erica Werner and Julie Pace in Washington contributed to this report.
.