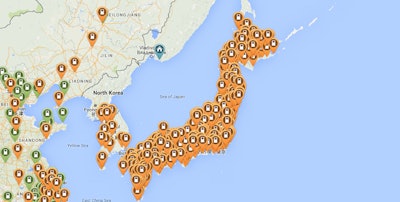 According to Nissan, which sells two electric cars in the market, Japan now has more electric car charging stations than it has gas stations.
That's counting privately owned charging stations at people's homes, which may or may not be made accessible to the public, but the raw numbers are there. At a conference call in February, Nissan revealed that there are over 40,000 charging stations in Japan, compared to 34,000 gas stations. For comparison, there are 13,418 public electric stations in the United States, according to the U.S. Department of Energy. Sites like PlugShare can be used to find both public and private chargers, and shows Japan essentially covered in charge points.
The numbers from Japan include private charging stations that may not be accessible to more than one person or family, but the numbers still mark a trend in the growing adoption of electric vehicles. Nissan sells two models there, the Leaf and the e-NV200 minivan, which is commercially available in Japan but only in the testing stages in the United States.
The government of Japan is exploring a variety of clean energy options in a country that once relied heavily on nuclear power. After the Fukushima disaster shuttered most of the country's nuclear reactors, there was a push for solar energy and other renewable sources. Nissan's numbers were released in February, but the country has lead the pack when it comes to the ratio of charging points to electric cars since 2012. In 2013 Japan held the largest share of electric vehicles by geographic distribution, driven by high sales of the Leaf. The government of Japan has done a significant amount of work on infrastructure R&D to make alternative fuels more convenient, as well as offering monetary incentives.