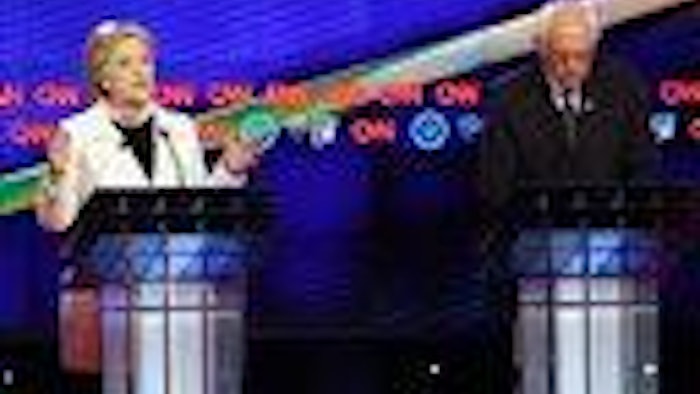 WASHINGTON (AP) — The Latest on campaign 2016 in the lead up to Tuesday's New York primary (all times Eastern Daylight Time):
9:44 p.m.
Hillary Clinton says she's not blaming Vermont for gun violence in New York. But she also says most guns used in crimes in New York come from other states that don't have serious gun control efforts.
Clinton is attacking Bernie Sanders for his record on gun control and his previous support for liability protections for gun manufacturers.
She says Sanders talks frequently about the greed and recklessness of Wall Street. She says she is also concerned about the recklessness and greed of gun manufacturers and dealers.
Sanders says he doesn't owe the families of victims from the Newtown, Connecticut, shootings an apology. He's reminding voters of his support years ago for banning certain assault weapons.
Sanders says as a senator from a state with virtually no gun control, he's best qualified to create a consensus on the issue.
___
9:40 p.m.
Hillary Clinton says she thinks the federal minimum wage should be raised to $12 an hour, but $15 would be even better.
Her stance on raising wages triggered a heated fight and some confusing crosstalk at the New York debate.
Clinton claimed she's always supported the "fight for $15," the labor-backed, nationwide campaign to raise the minimum wage.
But she says any increase should be gradual and she supports "setting the goal to get to $12."
Then she added, "But of course if we have a Democratic Congress, we will go to $15."
Rival Bernie Sanders pounced on the remarks quickly, saying. "I think the secretary has confused a lot of people."
Sanders supports raising the federal minimum wage to $15 an hour.
___
9:34 p.m.
Donald Trump has delivered an impassioned defense of "New York values," saying the city embodied the "bravery, heart and soul of America."
Addressing attendees of the New York State Republican Party's annual gala Thursday, Trump described families playing in Central Park, restaurants packed with patrons and workers, and a city of "honesty and straight talk."
Trump largely eschewed politics until the final moments of his speech. He did not mention his opponents by name but did note that he had won the most states and the most votes.
Trump said things "should be wrapped up by Cleveland," referring to the party's July convention, where Republicans will select a nominee.
___
9:30 p.m.
Donald Trump says he may move to the South if he doesn't do well in next week's New York Republican primary.
Addressing New York State Republican Party's annual gala Thursday, Trump said the South has "treated me so well." He touted his victories in various states, particularly in Florida, which he describes as his second home.
Trump was the first of the three GOP presidential contenders to address the black-tie gala.
___
9:25 p.m.
Hillary Clinton is continuing to insist she will release transcripts of her paid speeches to Wall Street banks only when other presidential candidates do the same.
During the Democratic debate in Brooklyn, Clinton said that this was a "new" expectation of candidates and we should "set the same standard for everybody."
Clinton has been attacked on the speeches by Bernie Sanders, who cites them as evidence of her close relationships to the financial sector.
Clinton adds that she has released 30 years of tax returns and called on Sanders and Donald Trump to do the same.
Sanders says he would happily release all his speeches because "there were no speeches."
On his tax returns, he says he would release his information for 2014 on Friday, calling them "very boring tax returns" because "I remain one of the poor members of the United States Senate."
___
9:21 p.m.
Bernie Sanders is struggling to demonstrate how Hillary Clinton was influenced in her policies by donations from Wall Street, as he's often alleged.
Sanders was asked to name a specific decision Clinton made while serving in the Senate that he believes was influenced by campaign contributions from the nation's financial services industry.
Sanders says the obvious example is her response to the Great Recession.
Sanders says millions lost their homes because of greed, recklessness and lawbreaking by Wall Street. He says the obvious response was to break up fraudulent operators and says he introduced legislation to accomplish that.
Sanders says Clinton was busy giving high-paid speeches to Goldman Sachs.
Clinton says Sanders can't come up with an example because there isn't one. She says it's important to get the facts straight even if it's inconvenient.
___
9:18 p.m.
Hillary Clinton is trying to show Bernie Sanders isn't the only candidate ready to break up banks.
Clinton says she would order regulators to break up banks if they don't pass their stress tests or submit adequate "living wills" as required by the Dodd-Frank Wall Street reform bill.
Clinton says she would name regulators who "are tough enough and ready enough to break up" any bank that fails meet the law's requirements. Clinton says she wants to expand those standards to apply to hedge funds and insurance companies.
Sanders responds that he doesn't need Dodd-Frank's guidelines to tell him the banks are too big.
He says, "They are just too big — too much concentration of wealth and power."
___
9:15 p.m.
Hillary Clinton is using President Barack Obama as a shield against Bernie Sanders' attacks on her campaign contributions.
Clinton was booed at Thursday night's debate when she said Sanders' attack was an attack on Obama. She says people may not like the answer, but insists Sanders is mounting a "phony attack."
Clinton says Obama had a super PAC when he ran for president, and took tens of millions of dollars from contributors. She says despite all that, Obama wasn't influenced by those factors when he signed the Dodd-Frank financial reforms into law.
Clinton says Sanders' attack is designed to raise questions despite there being no evidence to support his insinuations.
___
9:12 p.m.
Hillary Clinton is swinging hard at Bernie Sanders in the opening round of the latest Democratic debate.
Clinton is pointing to a recent interview Sanders did with the editorial board of the New York Daily News.
She is noting the "kind of problems" Sanders had answering questions about breaking up big banks and saying he could not answer a number of questions on foreign policy.
Clinton says, "I think you need the judgment on day one to be both president and commander in chief."
Sanders is pushing back, questioning Clinton's judgment in supporting the war in Iraq and accepting support from super PACs.
He asks, "Do we really feel confident about a candidate saying she is going to bring change in America when she is so dependent on big money interests?"
___
9:10 p.m.
Donald Trump is telling attendees at the New York State Republican Party's annual gala how he helped save the hotel where the gala is being held.
All three Republican presidential candidates are expected to speak at the black-tie gala at a Midtown Manhattan hotel on Thursday night, as the Democratic candidates hold a debate across the East River in Brooklyn.
For the first time in a generation, the New York primary is playing a key role in deciding the nominees of both political parties.
Trump has a decisive lead in the polls ahead of the state's April 19 primary. He explained how he expanded his father's business from the outer boroughs into the heart of Manhattan.
He barely mentioned his campaign or political platform at the start of his speech, joking that it's boring to discuss politics all the time.
___
9:08 p.m.
Hillary Clinton is pulling out her New York credentials fast.
In her opening statement at Thursday night's Democratic debate in her home state, Clinton beamed as she noted how happy she was to be in New York. She quickly noted her years as senator representing the state, saying "we faced difficult challenges together."
Clinton noted the Sept. 11 attacks, her support for first responders and her work trying to bring in jobs from "Buffalo to Albany."
She says "we worked hard to keep New York values at the center of who we are and what we do together."
___
9:05 p.m.
Bernie Sanders says his campaign is doing as well at it is because he's doing something radical: telling Americans the truth.
Sanders is touting his recent wins in caucuses and primaries in his opening statement of Thursday night's Democratic debate. He's pointing out the progress he's made in preference polls since his campaign started.
Sanders says the U.S. can't move forward until the Supreme Court decision in the Citizens United campaign finance case is overturned. He says the U.S. needs "real campaign reform" to prevent super PACs from buying elections.
Sanders says he's determined to end a "rigged economy" where the rich get richer and everyone else gets poorer. He says he wants to create an economy that works for everyone and not just the top 1 percent of Americans.
___
9 p.m.
The final Democratic debate before next week's New York presidential primary is under way in Brooklyn, with Vermont Sen. Bernie Sanders getting the first opening statement.
___
8:00 p.m.
Former New York Gov. George Pataki is endorsing John Kasich.
Pataki ended his own brief Republican presidential campaign late last year. He announced his support for the Ohio governor on Thursday night. That's just five days before New York's high-stakes presidential primary.
Pataki says Kasich "has a track record of bringing people together." He warns that Republican front-runner Donald Trump would "drive the Republican Party off the cliff."
___
4:23 p.m.
Democratic presidential candidate Bernie Sanders is releasing a new 30-second ad that urges voters in New York to "send a message" to Wall Street banks and billionaires.
The ad says "nothing will change until we elect candidates who reject Wall Street money."
It makes no mention of rival Hillary Clinton, but amplifies Sanders' message of opposing the outside groups known as super PACs and campaign donations from the financial industry.
Sanders often questions Clinton's ties to super PACs and has called for the former secretary of state to release the transcripts of her paid speeches to employees of Wall Street banks.
The ad targets a "corrupt political system that keeps in place a rigged economy where Wall Street buys off elections."
___
3:50 p.m.
The Vatican says Pope Francis has no plans to meet with Vermont Sen. Bernie Sanders when the Democratic presidential candidate speaks at a Vatican conference on Friday.
Vatican spokesman the Rev. Federico Lombardi told reporters Thursday that the pope has no plans to either address the conference or meet with Sanders. Lombardi said: "I'm not expecting anything."
Sanders has said he would be honored to meet with the pope but no meeting has been arranged.
Sanders has long admired Pope Francis, who preaches a message of social and economic justice similar to the senator's agenda on the campaign trail.
Dozens of speakers will commemorate the 25th anniversary of a high-level teaching document by Pope John Paul II on the economy and social justice at the end of the Cold War.
___
2:40 p.m.
Donald Trump's campaign manager says he is "gratified" by a Florida prosecutor's decision to drop a battery charge against him in an incident with a female reporter.
Corey Lewandowski, in a statement released by the campaign on Thursday, said he "appreciates the thoughtful confederation and professionalism" displayed by the state attorney in Palm Beach.
Lewandowski also said he appreciated Trump's "loyalty" and the support of his colleagues. The campaign's statement then declares "the matter is now concluded."
Police had last month charged Corey Lewandowski after determining that a video recording showed him grabbing reporter Michelle Fields by the arm.
She worked for the conservative Breitbart News website at the time and was trying to ask Trump a question after a March 8 appearance.
The decision comes at a time when Lewandowski's influence in the campaign may be waning. While Lewandowski maintains the title campaign manager and travels with the candidate, Trump in recent weeks has hired a pair of veteran Washington operatives to take prominent roles in the campaign.
___
2:00 p.m.
A court document filed Thursday says that Donald Trump's campaign manager will not be prosecuted on a misdemeanor battery charge after prosecutors determined there wasn't enough evidence to convict him of forcibly grabbing a female reporter.
Police had last month charged Corey Lewandowski after determining that a video recording showed the New York City resident grabbed reporter Michelle Fields by the arm.
She worked for the conservative Breitbart News website at the time and was trying to ask Trump a question after a March 8 appearance. Fields later tweeted a photograph of her bruised forearm and said she had been yanked backward.
"Although there was probable cause to make an arrest, the evidence cannot prove all legally required elements of the crime alleged and is insufficient to support a criminal prosecution," according to a court document filed by state attorney Dave Aronberg.
___
1:20 p.m.
Vermont Sen. Bernie Sanders is making an impassioned case to a New York gathering of black leaders that he's the Democrat who can best address the nation's problems and defeat Republican Donald Trump.
Sanders is speaking Thursday to the National Action Network conference led by the Rev. Al Sharpton. The meeting comes hours before a Democratic presidential debate with Hillary Clinton.
Sanders is outlining a litany of policy proposals on jobs, education and criminal justice. He says if people think the issues will be addressed by "establishment politics and establishment economics, you've got a very good candidate to vote for but it's not Bernie Sanders."
He says he respects Clinton and calls her "an extremely intelligent woman with a wonderful resume and a whole lot of experience." He adds, "In a campaign things get heated up."
___
12:35 p.m.
Texas Sen. Ted Cruz says he supports the ability of North Carolina lawmakers to pass a law restricting bathroom access for gay and transgender people.
Cruz said Thursday during taping of a MSNBC town hall in Buffalo, New York, that states can pass such laws because "men should not be going to the bathroom with little girls." Cruz says, "That is a perfectly reasonable determination for the people to make."
But Cruz would not comment on an executive order signed by North Carolina's governor "to protect privacy and equality" for many state workers "to cover sexual orientation and gender identity." Cruz says he isn't familiar with the details of what was signed.
North Carolina has faced a national backlash from gay rights groups, entertainers and business leaders who say the law unfairly targets gay and lesbian people.
___
12:30 p.m.
The vast majority of Americans say they prefer lower prices instead of paying a premium for items labeled "Made in the U.S.A.," even if it means those cheaper items are made abroad, according to an Associated Press-GfK poll released Thursday.
While presidential candidates like Donald Trump and Bernie Sanders are vowing to bring back millions of American jobs lost to China and other foreign competitors, public sentiment reflects core challenges confronting the U.S. economy.
Incomes have barely improved, forcing many households to look for the most convenient bargains instead of goods made in America. Employers now seek workers with college degrees, leaving those with only a high school degree who once would have held assembly lines jobs in the lurch.
Nearly three in four say they would like to buy goods manufactured inside the United States, but those items are often too costly or difficult to find, according to the survey. A mere 9 percent say they only buy American.
___
12:00 p.m.
Texas Sen. Ted Cruz is standing by an accusation he made on the Senate floor that Republican Majority Leader Mitch McConnell lied to him.
Cruz did not apologize for his remarks made last summer when they were played during taping of an MSNBC town hall on Thursday in Buffalo, New York.
Cruz said instead that "every word I said there is true and accurate. No one has disputed a word I said."
Despite challenging the trustworthiness of the Republican majority leader, Cruz said if elected president he could work effectively with GOP leadership. Cruz has railed against what he calls the "Washington cartel" and cast himself as a Washington outsider, despite pursuing support from fellow lawmakers.
Cruz says if elected president "I will work very, very closely with leaders in Congress."
___
11:50 a.m.
Texas Sen. Ted Cruz is making a pitch to New York voters saying a state law banning fracking is hurting the economy and diverting jobs to neighboring states.
Cruz said Thursday during a taping of a MSNBC town hall meeting in Buffalo, New York, that state is wrong to have a law banning hydraulic fracturing, an oil-and-gas extraction method known as fracking.
He said legalizing it could put thousands of people to work in upstate New York where there are large shale reserves that could be tapped.
Cruz blamed the anti-fracking law on "knuckleheaded Democratic politicians." His comments came after being asked yet again to defend his criticism of "New York values."
Cruz said the people of upstate New York "have been suffering under the misguided policies of liberal Democratic politicians for a long, long time."
___
10:30 a.m.
Speaker Paul Ryan says the whole world is watching American politics and that he can understand how Middle East allies would be rattled by Republican Donald Trump's comments.
In an interview with reporters Thursday, the Wisconsin Republican criticized the president's foreign policy and said allies wanted to know if the U.S. is "still in the game." Ryan recently led a congressional delegation to five countries, including Saudi Arabia, Israel, Jordan and Egypt.
He said allies were rattled a bit by administration policy. Asked if Trump's comments had rattled them as well, Ryan said, "Sure. I get that, too. Everybody pays attention to our politics."
Ryan said it's unrealistic to think that if the U.S. pulls back, "our oceans are going to save us."
___
10:10 a.m.
A top Donald Trump adviser says the businessman is on a "glide path" to reaching the 1,237 delegates needed to clinch the Republican nomination.
Ed Brookover spoke to reporters Thursday following a meeting with House members who have endorsed Trump. He says the meeting was the first in a series of gatherings he'll be holding with lawmakers.
While Brookover did not spell out Trump's path to the nomination in detail, Rep. Chris Collins, R-NY, says meeting participants outlined a scenario in which Trump receives 1,265 delegates.
Collins says that scenario is based on Trump winning nearly all of the delegates in Tuesday's New York primary and the race continuing through California on June 7.
___
9:05 a.m.
Democratic presidential candidate Bernie Sanders is disavowing remarks made by a campaign surrogate who said voters shouldn't "continue to elect corporate Democratic whores" during a large New York City rally.
Sanders said on Twitter Thursday that the comment by Dr. Paul Song "was inappropriate and insensitive." He writes that "there's no room for language like that in our political discourse."
Song is a California health care activist who was among several speakers who spoke before Sanders addressed a Wednesday night rally in Washington Square Park.
Song said Democratic presidential candidate Hillary Clinton had said Sanders' Medicare for all plan wouldn't happen. He said it wouldn't happen if voters "continue to elect corporate Democratic whores" beholden to special interests.