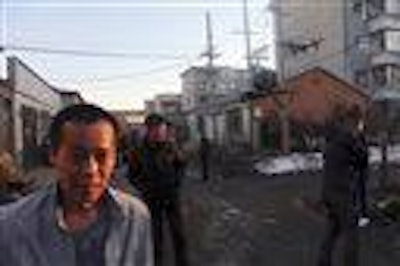 JUNDESHAN, China (AP) — Hanging from a highway overpass two hours' drive from the Siberian border, a local government banner reads like a last-gasp exhortation to this exhausted coal community: "Improve our structure, change our methods, transform our city."
This area has transformed in dire ways as China has retreated from coal and heavy industry. Li Jiuxian, who hasn't been paid for half a year, sees only mounting debts and anger.
"I don't even have anywhere left to borrow money from," said the 51-year-old miner as he stepped outside a squalid mahjong parlor reeking of smoke and drink where miners while away days without work or pay. "There isn't going to be change."
Frustration among miners like Li over unpaid wages has swelled to the brink of unrest in Heilongjiang province in China's far northeast, also known as Manchuria. It spilled over most recently a week ago when thousands of miners protested in the town of Shuangyashan, a direct challenge to Beijing's assertion that it is proceeding smoothly with a sweeping plan to cut capacity in industrial sectors and make the economy more efficient.
Chinese leaders promise the pain will be short-term as they retrain and re-employ the estimated 1.8 million workers who will be laid off from unprofitable government-owned coal and steel companies. Countless more will be axed by private firms. But villagers' struggles and increasing incidents of labor unrest underscore the difficulty of China's transformation.
Faced with coal prices dropping by 50 percent since 2011 and few other economic drivers, mining communities in China's far east are particularly struggling. It's a far cry from the years when heise huangjin — black gold, as the locals call coal — attracted outsiders to mines that paid a hefty $800 a month and made mine bosses rich enough to cruise around town in Rolls Royce sedans.
Standing in a trash-strewn street where mostly mining families lived, Li, the miner, and his friend Zhang Shucun recounted how their village of Jundeshan fell into poverty in just five years. A woman standing nearby interjected to say she was worried, too, that her family will soon starve.
"The party central says they don't owe us any money, but they do owe us," said Zhang, 51, who has worked in mines for 15 years. "They haven't told us anything about plans for other jobs. If just one official came to us to say something, that would be good, but there hasn't been any word."
Miners seem especially furious that government leaders have not been sufficiently aware of their suffering. Last week's protest came after Lu Hao, the provincial governor, said during China's annual parliamentary gathering that miners did not have "even a cent" cut from their pay. The miners who protested are from Longmay, the largest state-owned enterprise in Heilongjiang province with nearly a quarter-million employees, and hadn't been paid in six months.
The protests forced Lu to backtrack, saying he had been wrong. He pledged to get workers their full pay.
Analysts say it's unclear how long the government can keep that promise. Longmay has an estimated annual wage bill of about $1.5 billion, which would be a massive burden for the Heilongjiang provincial government, according to Fitch Ratings analyst Jenny Huang.
At his annual press conference this week, Chinese Premier Li Keqiang reiterated the government's determination to push ahead with job cuts while supporting laid-off workers with a $15 billion fund to help them find new jobs.
But the economy of the industrial northeast is not the same as southern China's manufacturing hubs, which lay off and re-employ workers at a higher rate, said Geoffrey Crothall of China Labor Bulletin, a nonprofit that has tracked a near-doubling in reported strikes on a monthly basis countrywide in the last six months.
"The opportunities for middle-aged or even elderly former coal miners and steel plant workers are more limited in a province where the economy really has slowed to virtually zero," Crothall said.
China laid off around 30 million workers in the state sector in the late 1990s and early 2000s with relatively limited impact on social stability. This time, however, the slower economy is creating fewer chances for re-employment. Social media and non-government-controlled channels of communication, meanwhile, give workers more opportunities to organize, creating the possibility of a nationwide movement much feared by authorities.
The economies of Shuangyashan and neighboring Hegang, which includes Jundeshan, plummeted about 10 percent in 2014, according to local officials. Both towns' economies ticked up a few percent last year.
A visit to the region showed local officials struggling to contain the economy's unraveling, much less find opportunities for growth.
The streets of Shuangyashan were this week filled with thousands of police bused in from across the region to prevent new protests. Those who were not on duty dozed or chatted in dozens of tour buses parked along the main drag.
Videos of the unrest that were not yet censored were readily forwarded on social media. Residents said the hotbed of protesting miners was near the Dongrong mine, which was blockaded by local officials.
At the biggest corner market in Jundeshan, Wang Ruiping, a 24-year-old shopkeeper, said his shop, situated next to several vacant storefronts, was barely breaking even. Even a few years ago it wasn't uncommon for locals to spend 200 to 300 yuan ($31 to $46) on a shopping trip; these days most leave with 30 yuan ($4.60) worth of bare essentials.
The most striking change, he said, was that young people had all headed south to seek jobs. Just last week, four of his friends departed for the port city of Qingdao to work on the docks.
"Those who can leave have left," he said.
The economic performance of Heilongjiang province, and in particular Longmay, its largest state enterprise, remains a sensitive subject after the recent protests. Reporters have been tailed by police upon arriving at a regional airport, and driven away from mining areas by local government and Longmay officials.
In Hegang, men in four vehicles pursued and surrounded a car with Associated Press journalists and took away the drivers — and the car — without explanation. The men said they were employees from a Longmay subsidiary's propaganda office but refused to give their names. Several calls to Longmay went unanswered, as did a fax seeking comment from Hegang officials.
Opportunities to speak openly with workers were often fleeting.
At the Longmay Fuli mine in Hegang, miners stripped out of their uniforms in a changing room after finishing their night shift. Some miners spoke of relief that they were finally issued pay from October and were optimistic more delayed wages might soon follow. Others were despondent, describing how they barely survived off their spouse's income, eating little more than rice.
One miner became agitated, saying that even when they got paychecks, they received a fraction of what they were owed.
"When they say they are paying us 5,000 yuan or 3,000 yuan, that's not accurate, so don't believe the media reports," he said. When he was asked to explain, Longmay executives suddenly appeared, stopped the interview and ushered the miner away.
"We invite you to come in to speak to the company leadership," said a man who identified himself as an employee of the mine's propaganda office but would not give his name. "They can provide better answers to your questions than them."
___
Video journalist Paul Traynor contributed.