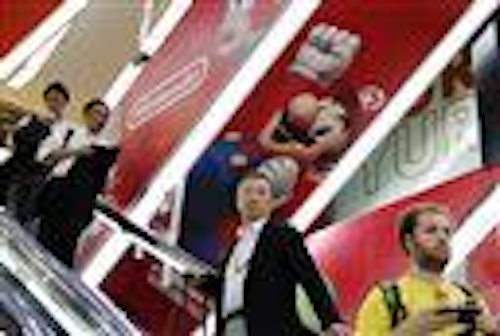 TOKYO (AP) — Nintendo Co. reported a 36 percent drop in quarterly profit on Tuesday after lackluster video game sales for the year-end holiday shopping season.
The Japanese manufacturer of Super Mario games and the Wii U game machine earned 29.1 billion yen ($241 million) profit for the October-December fiscal third quarter, down from 45.2 billion yen a year earlier.
The Kyoto-based company, which suffered a blow when its charismatic president Satoru Iwata died in July last year, kept its annual forecasts unchanged at a 35 billion yen ($290 million) profit on 570 billion yen ($4.7 billion) sales for the fiscal year through March.
Quarterly sales slipped 18 percent to 221.5 billion yen ($1.8 billion).
For the nine months from April through December, Nintendo said global sales of the Wii U reached 3.06 million units. It's aiming to sell 3.4 million of the machines through March.
Among the company's Wii U game software that recorded strong sales were "Splatoon" and "Super Mario Maker." It said "The Legend of Zelda: Twilight Princess HD" will be introduced and will likely contribute to sales growth.
The 3DS handheld machine fared better, with Nintendo selling 5.88 million during the nine months. The company projected 7.6 million in sales for the year through March. "Animal Crossing: Happy Home Designer" was a hit game for the hand-held platform, according to Nintendo.
___
Follow Yuri Kageyama: twitter.com/yurikageyama
Her work can be found at: bigstory.ap.org/content/yuri-kageyama